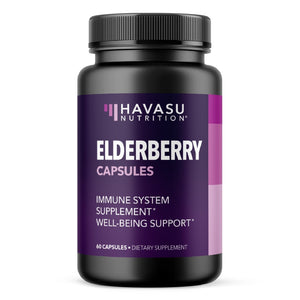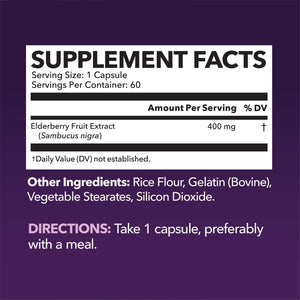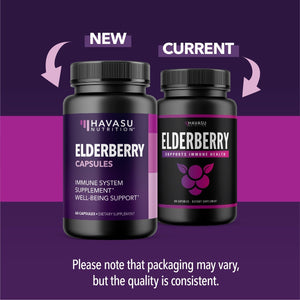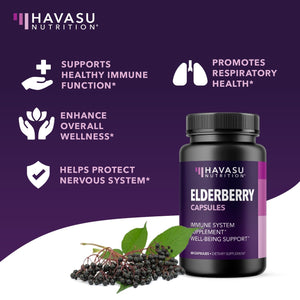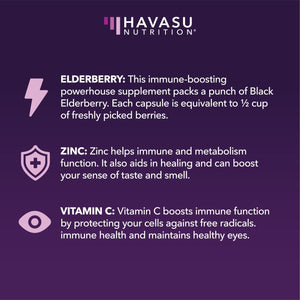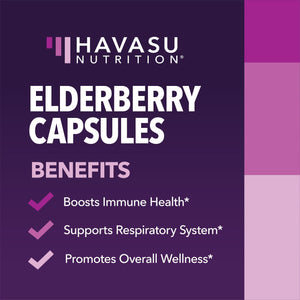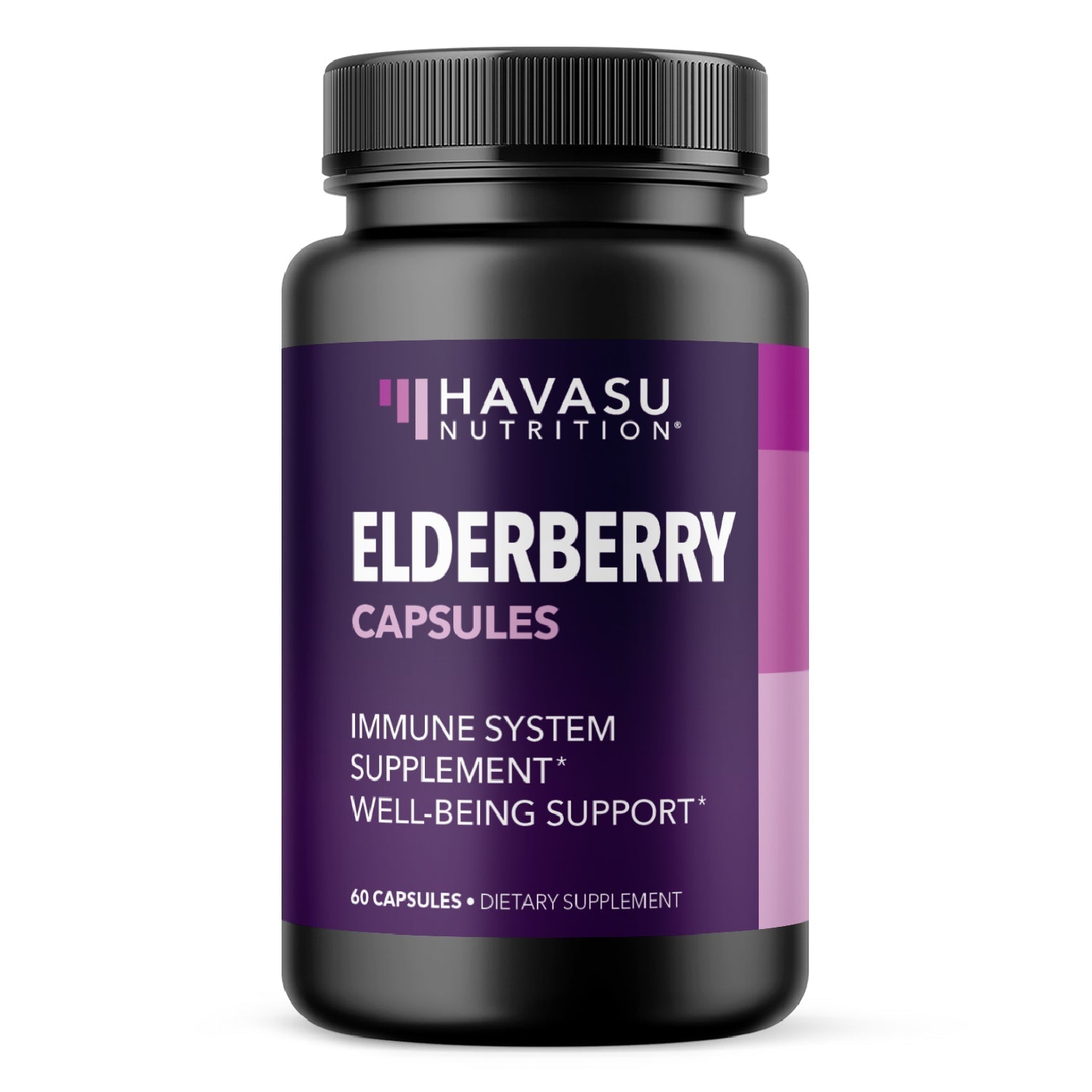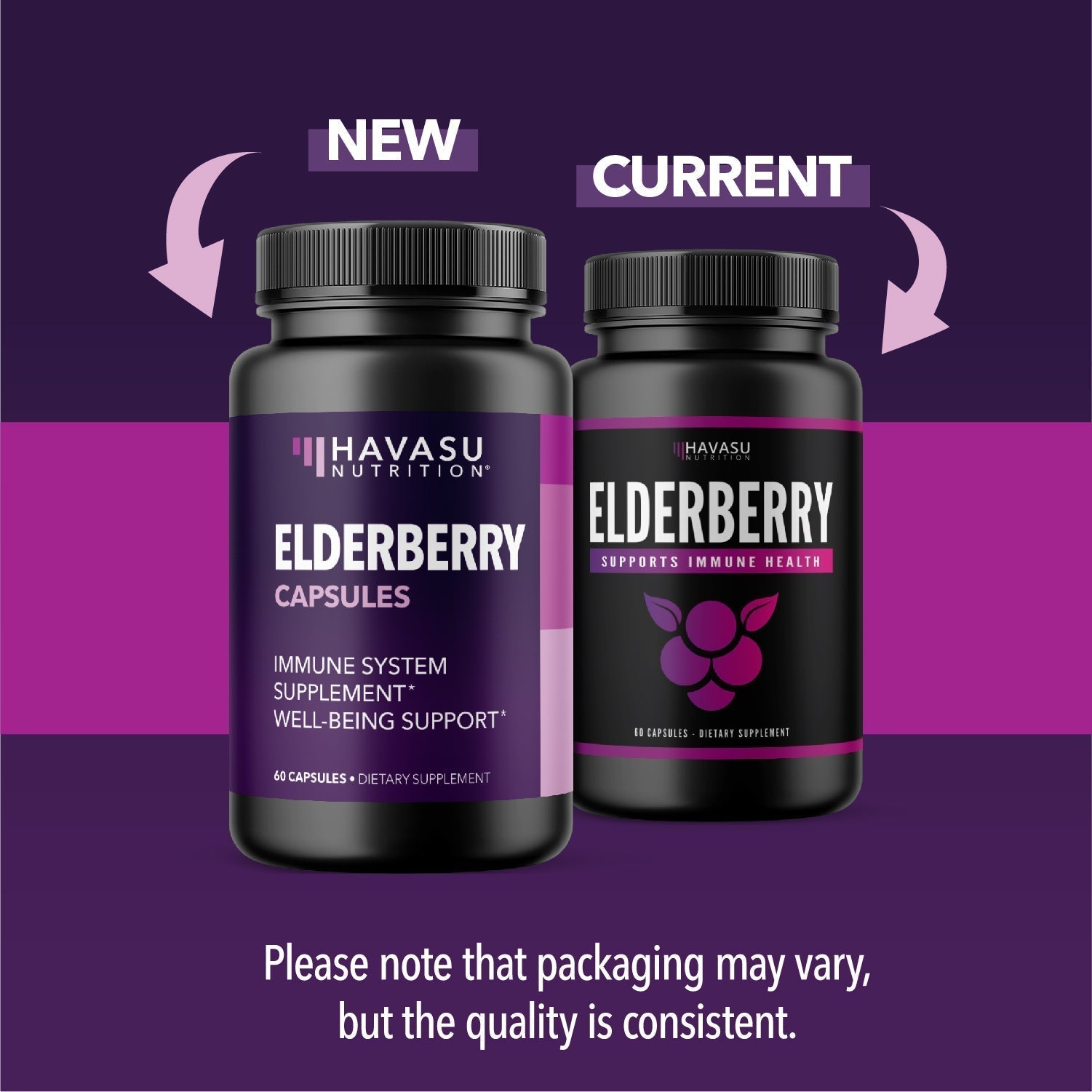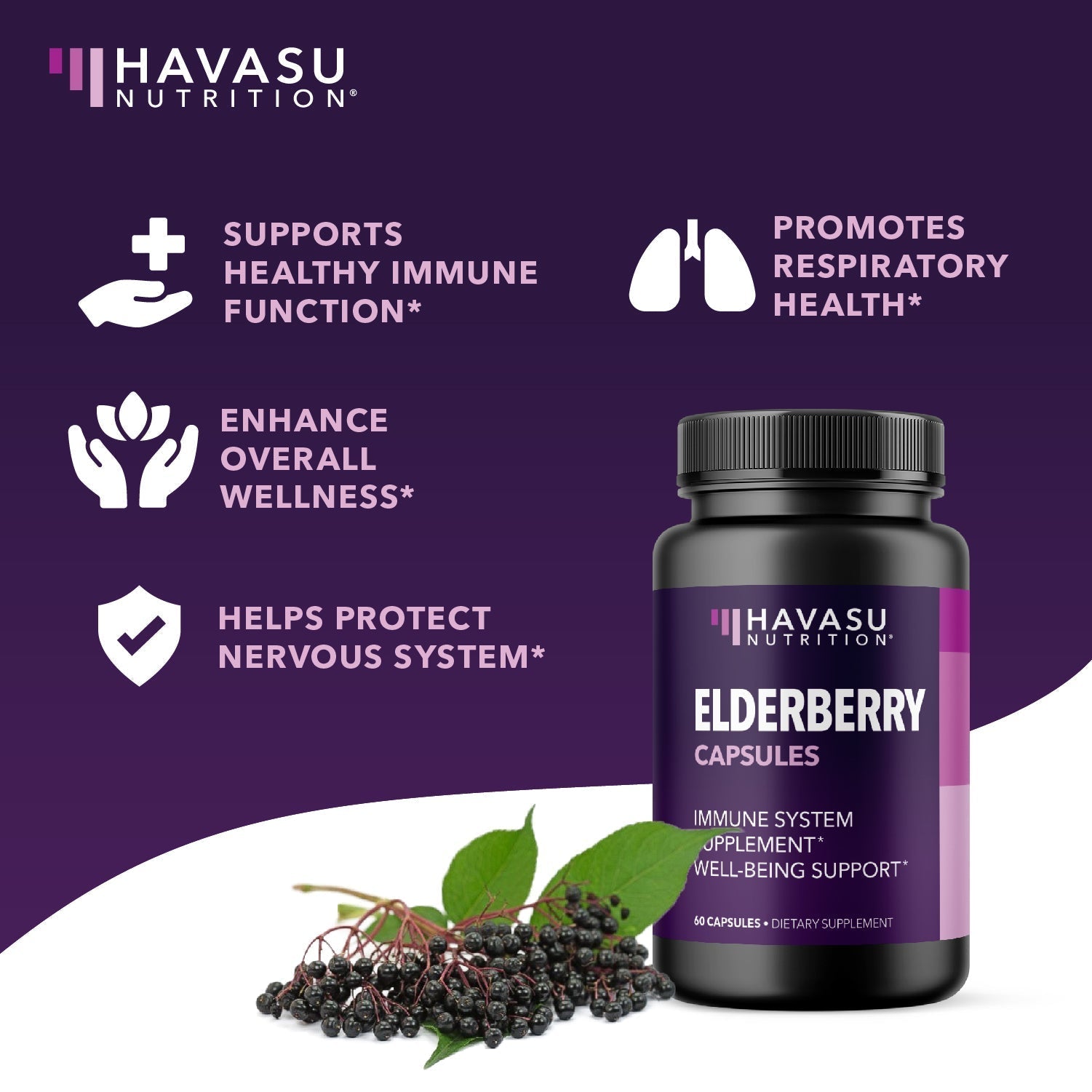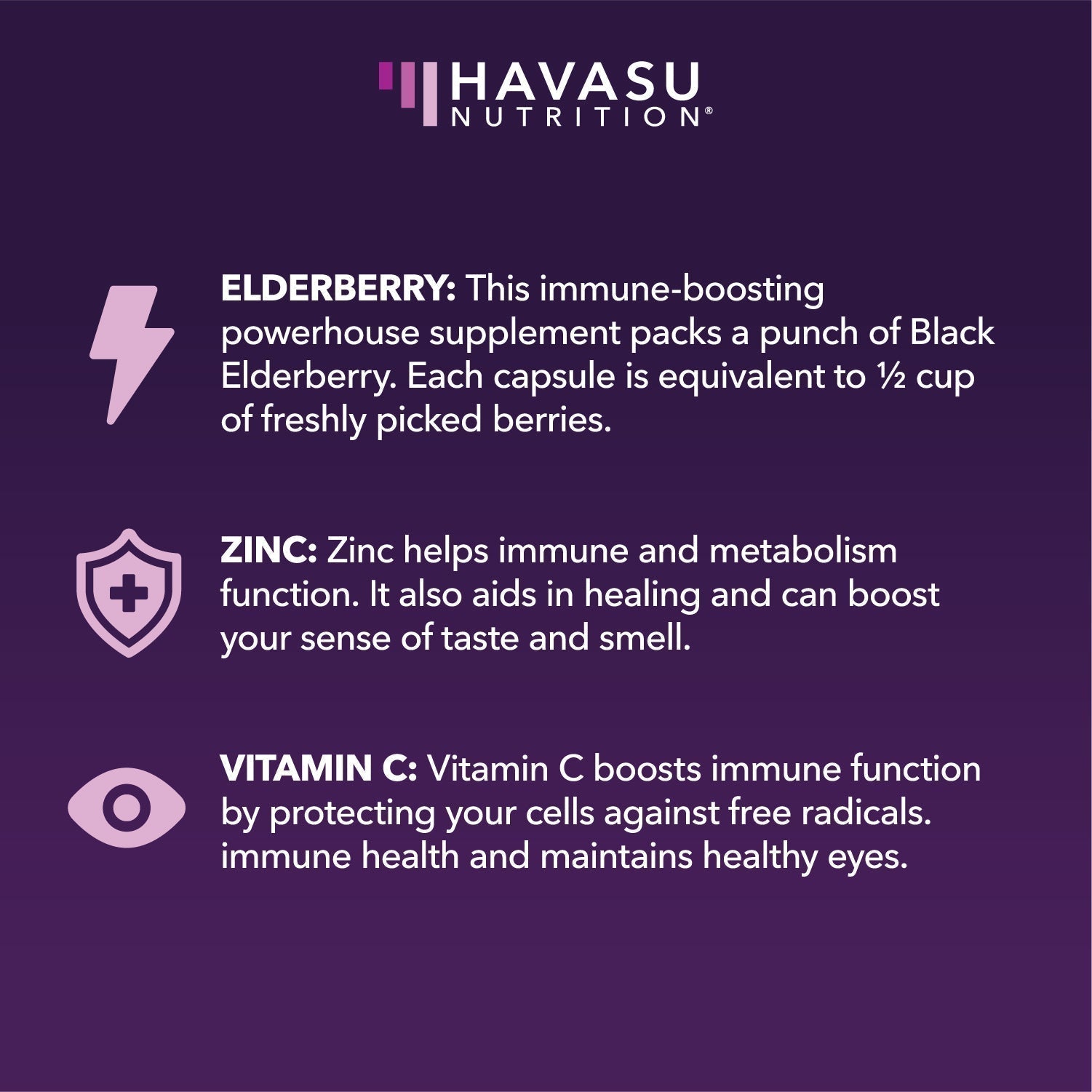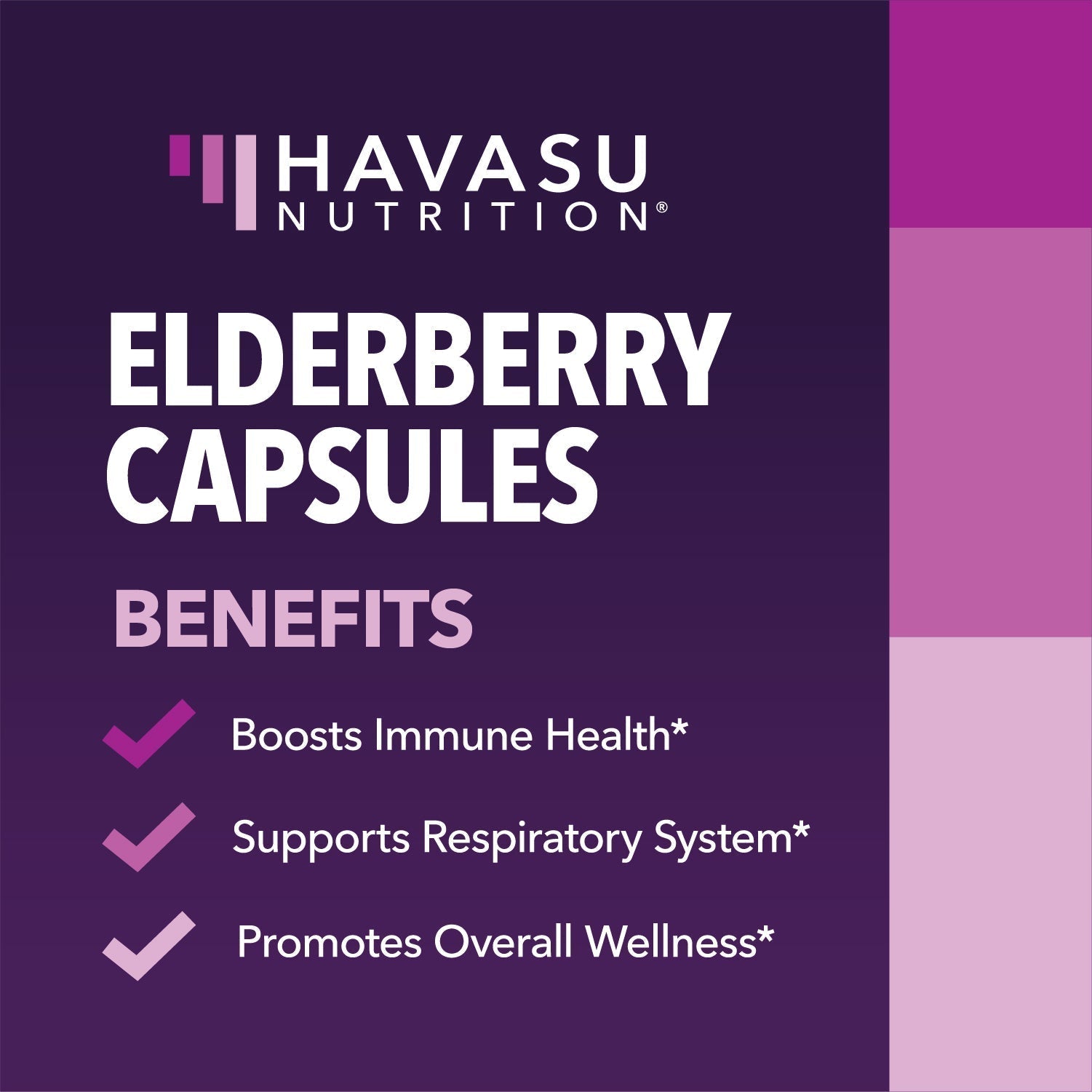 Elderberry Capsules, 60ct
Havasu Elderberry Capsules are guaranteed to deliver a concentrated amount of protective antioxidants called anthocyanins, which are known for this super-fruit's health benefits. Elderberry has been consumed for centuries for its immune-boosting properties, especially during cold and flu seasons, making it the ultimate immunity shield!*
PACKED WITH BENEFITS AND WITHOUT THE SUGAR - Elderberry fruit juice and concentrated syrups are a common way to consume this powerful super-fruit. But they come with a bunch of sugar your body doesn't need. Our Elderberry Capsules provide all the benefits elderberries offer, but without any added sugar, honey or stevia. Each capsule delivers a fresh fruit equivalent of approximately 1/2 cup of freshly picked berries.* 
CONVENIENT, TASTELESS & EASY TO DIGEST - Our Elderberry Capsules are completely tasteless, making them convenient for those on the go or watching their sugar intake.*
HAVASU NUTRITION CUSTOMER COMMITMENT
Take 1 capsule a day, preferably with a meal
Elderberries have naturally occurring anthocyanins that provide good antioxidant support †
Antioxidants can help neutralize free radicals, promoting good overall health †
Free shipping in the US on orders over $35!
PURE ELDERBERRY EXTRACT
Naturally packed with antioxidants and vitamins that may boost your immune system
Helps neutralize free radicals †
May support immune function †
Flavorless and convenient capsules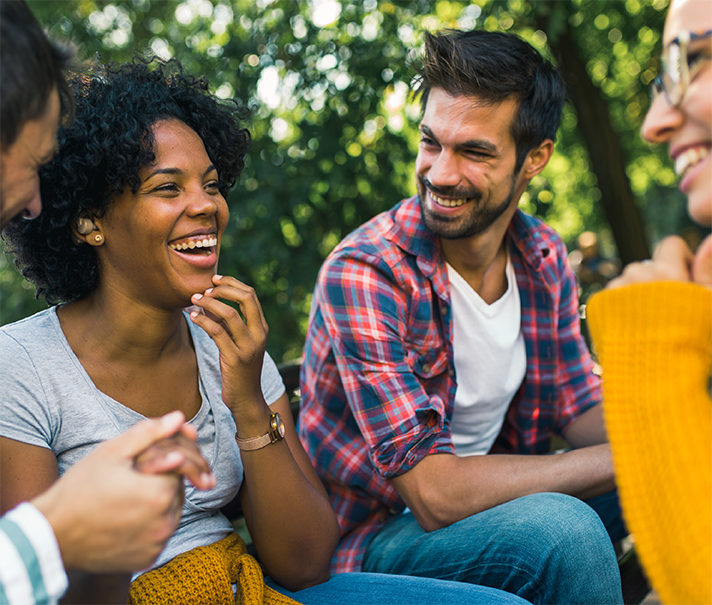 GMP certified
Gold standard in product quality and safety
Price-match guarantee
Safe money when ordering with us
Hassle-free exchange
30-Day Money Back
Reviews
Customer satisfaction #1 priority
FREQUENTLY BOUGHT TOGETHER
HAVE A QUESTION? GREAT, ASK US!
Elderberry supplements are good for your immune system as they boost your body's natural defense mechanisms. Derived from natural ingredients, Elderberry Capsules are also designed to counter inflammation, reduce stress and rid your body of free radicals.
Take no more than TWO Elderberry Capsules per day, preferably with a meal or as directed by your healthcare provider.
Elderberry benefits adult health through promoting stronger immune function, better respiratory health and enhanced overall wellness. Havasu Nutrition's Elderberry Capsules for Adults are packed with prominent levels of antioxidants, vitamins, and minerals for maximum health support.