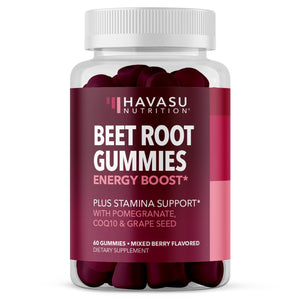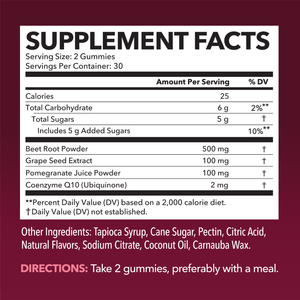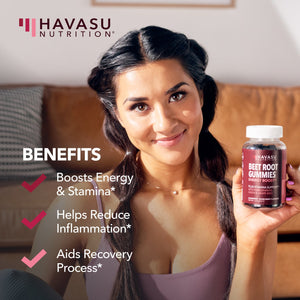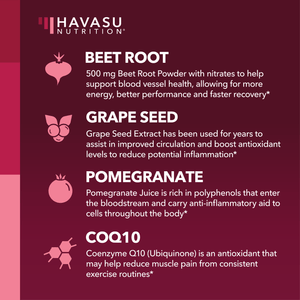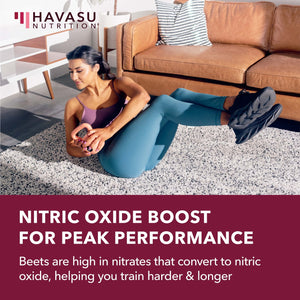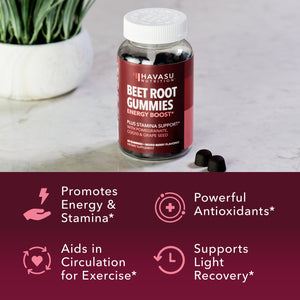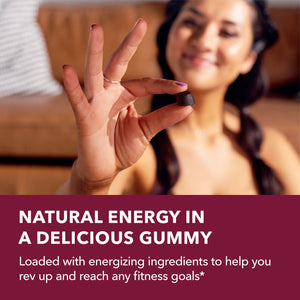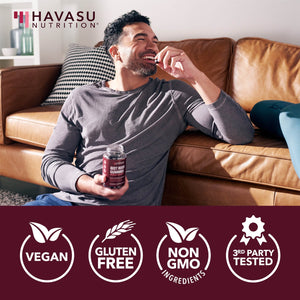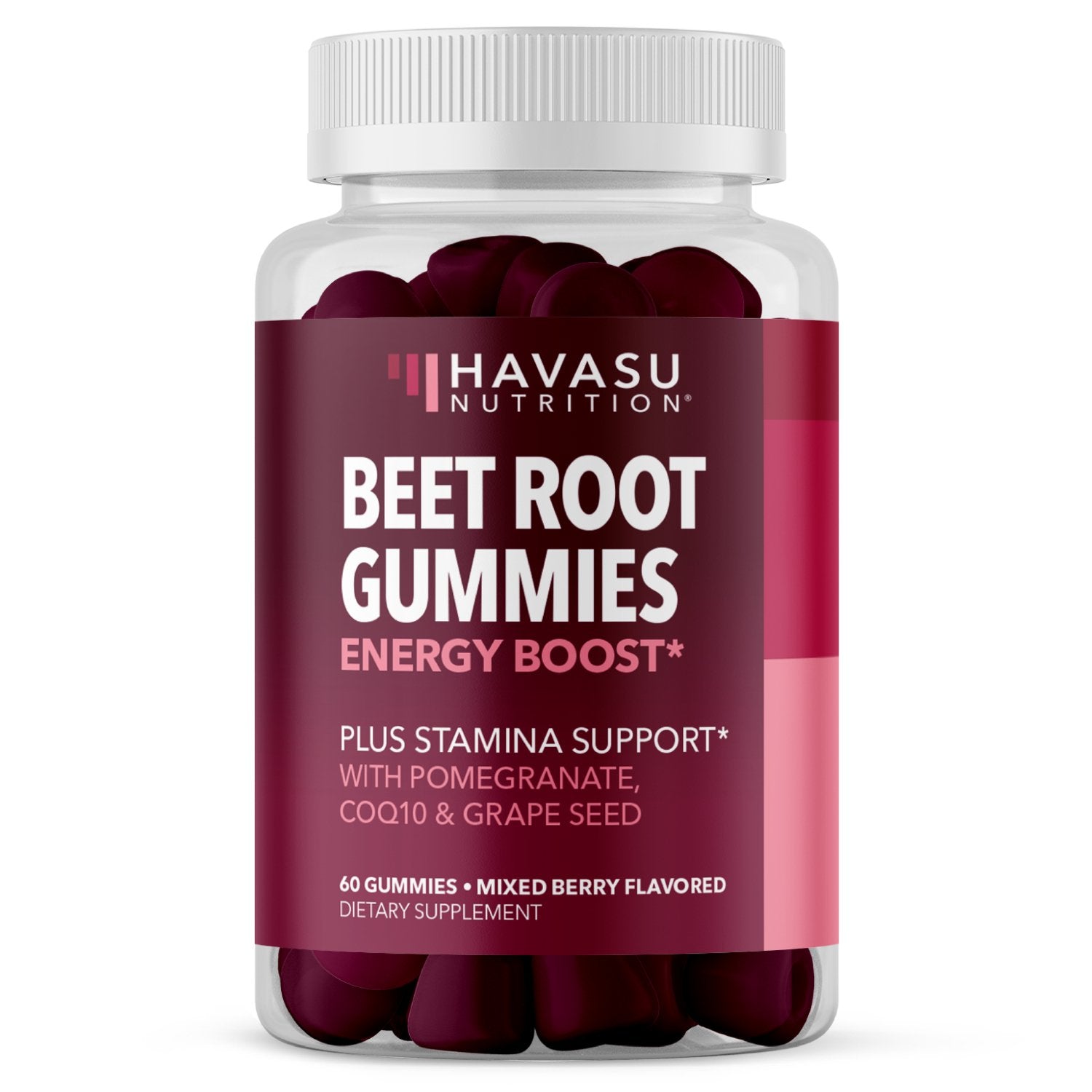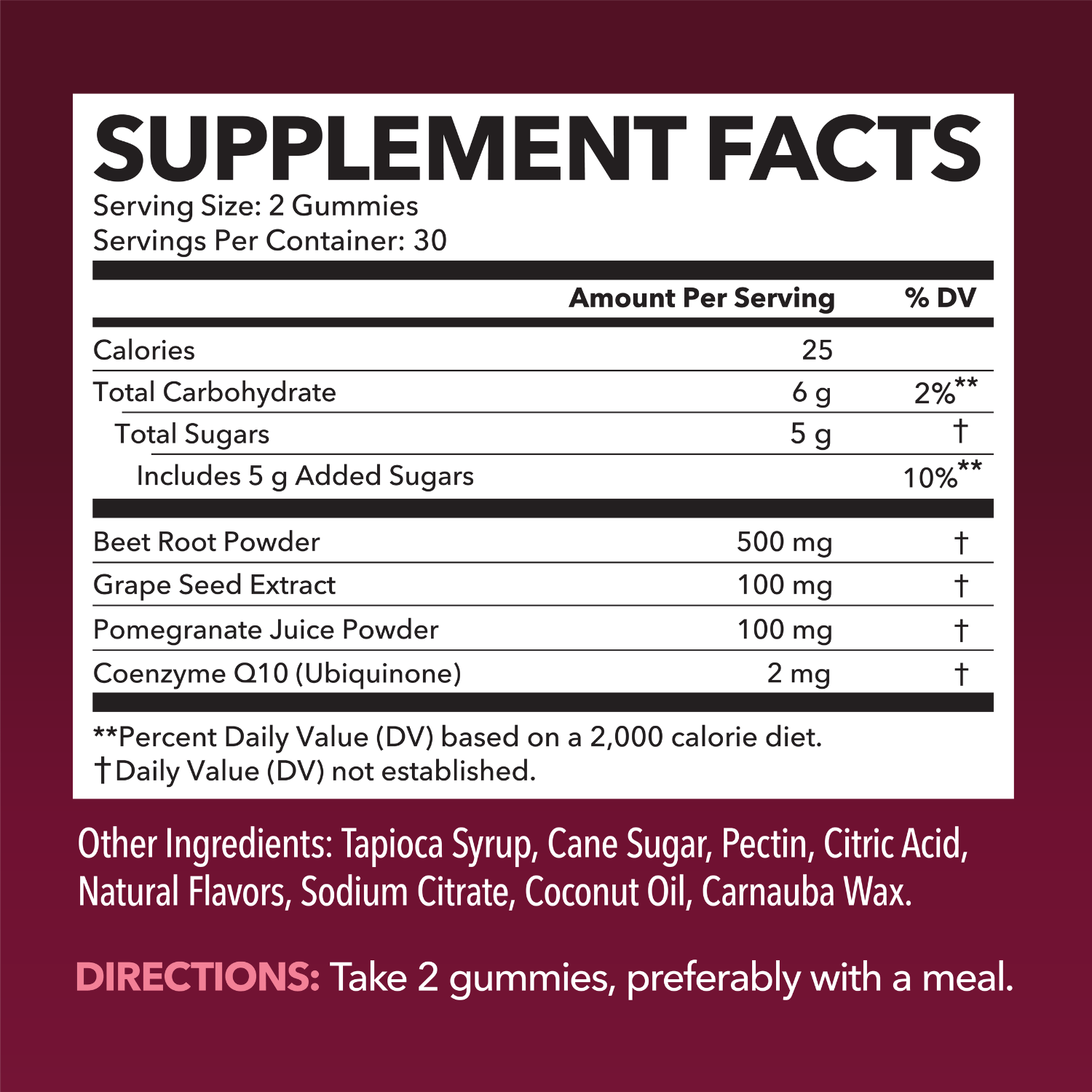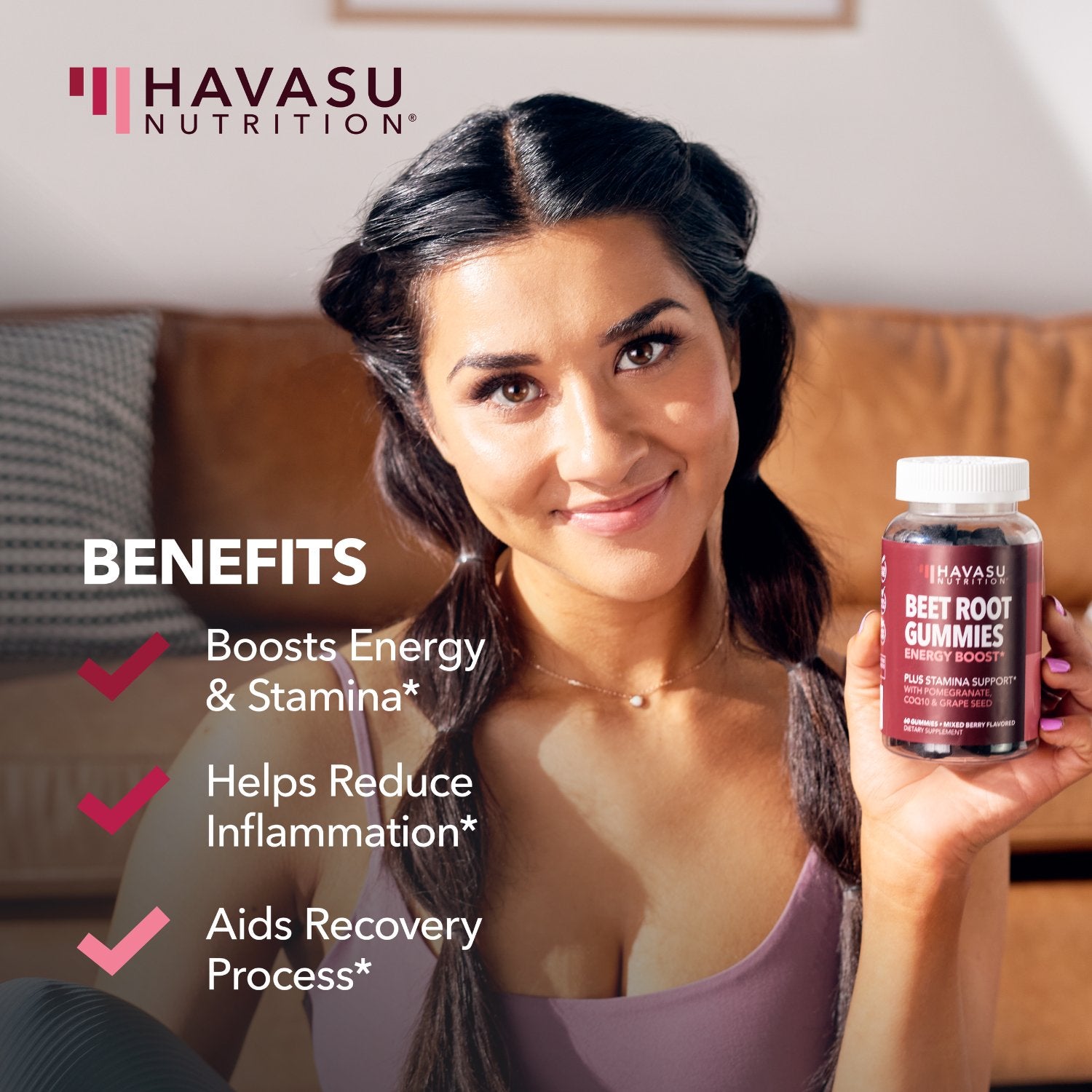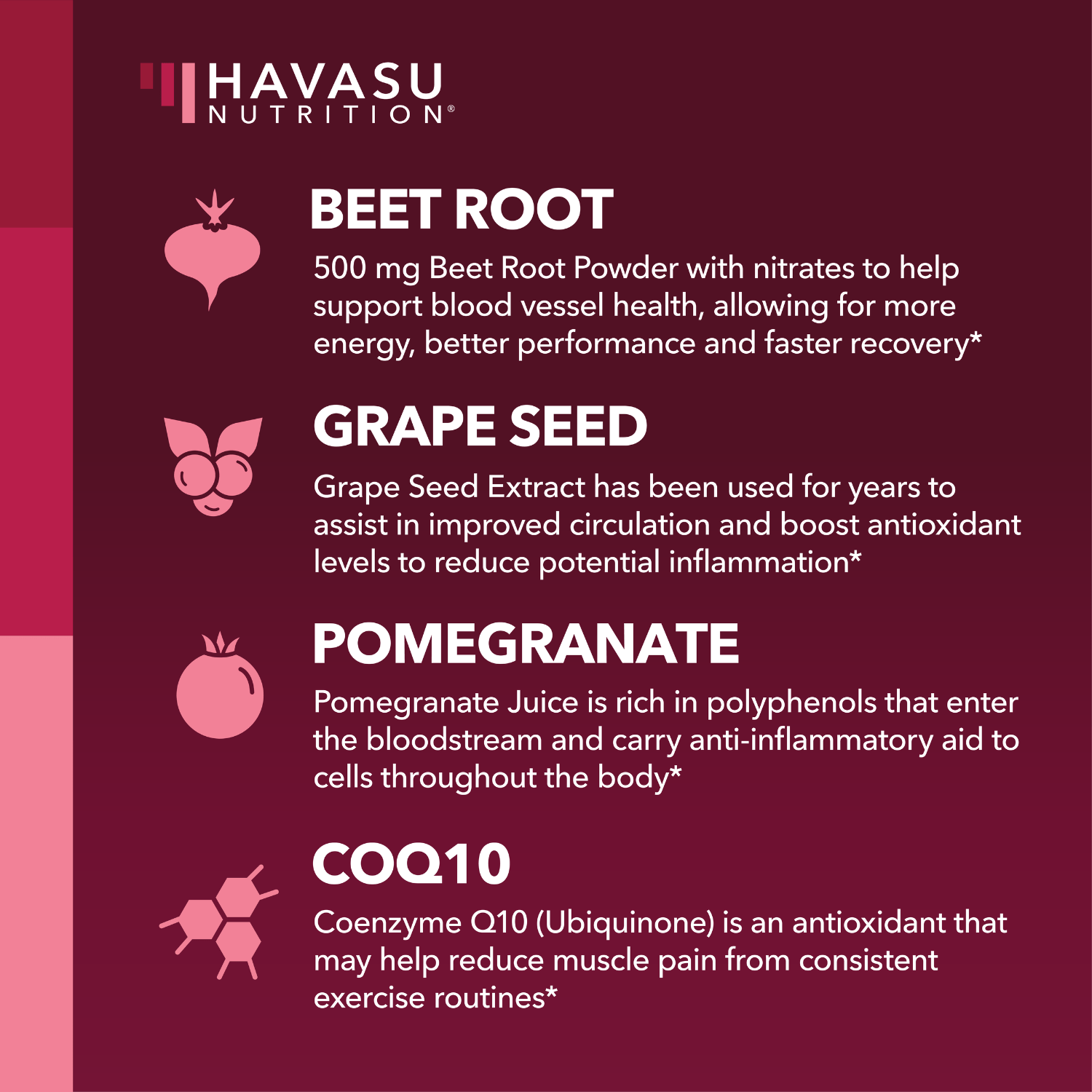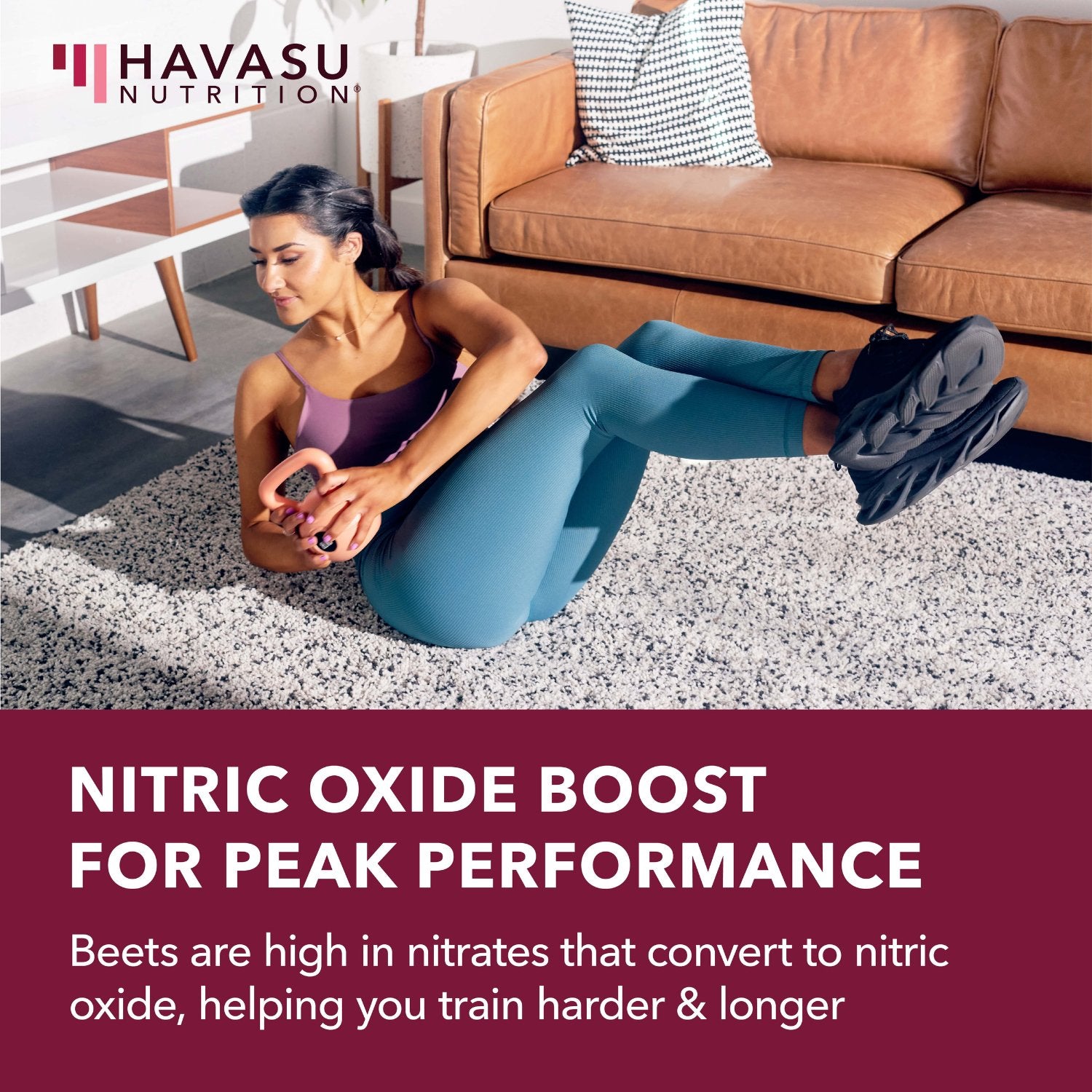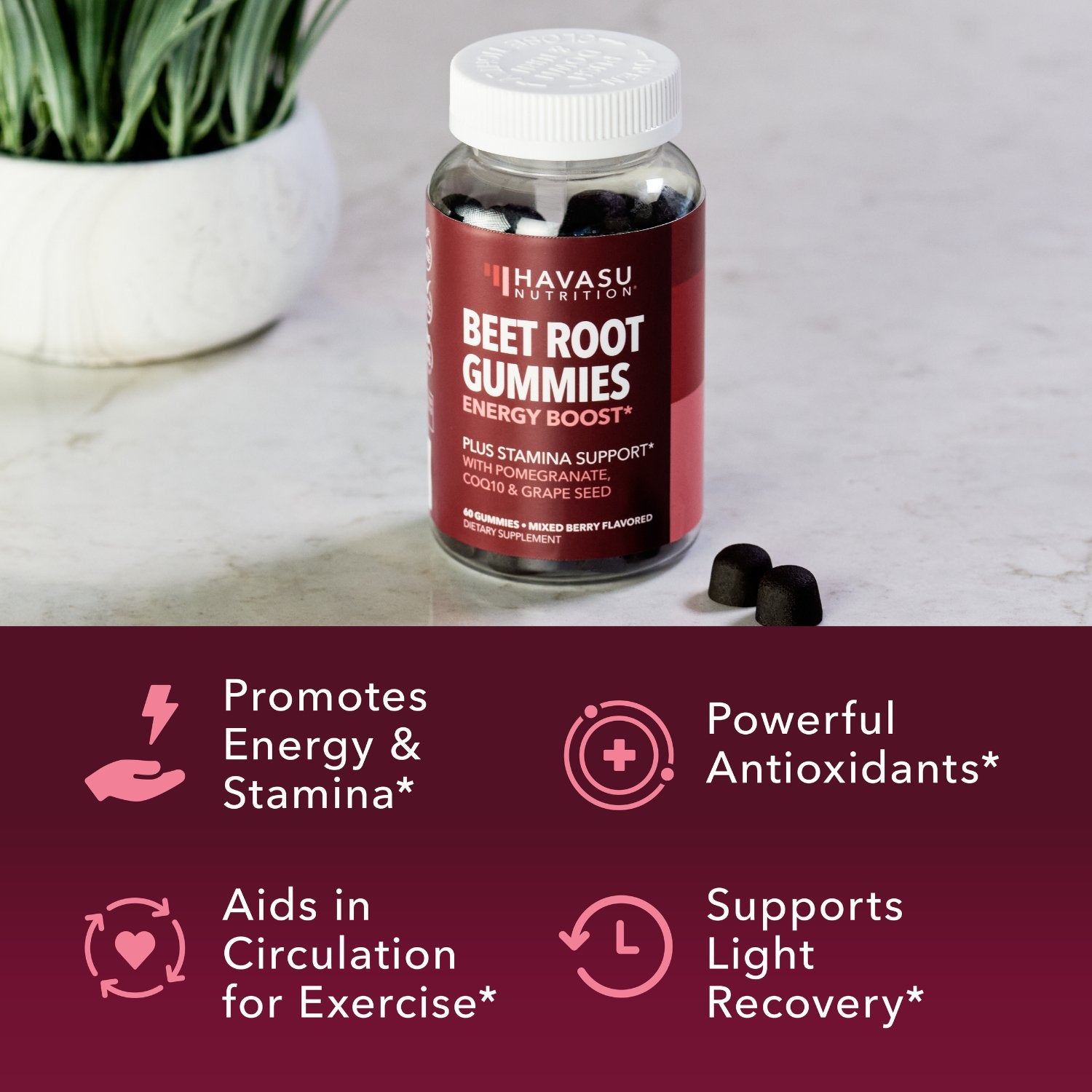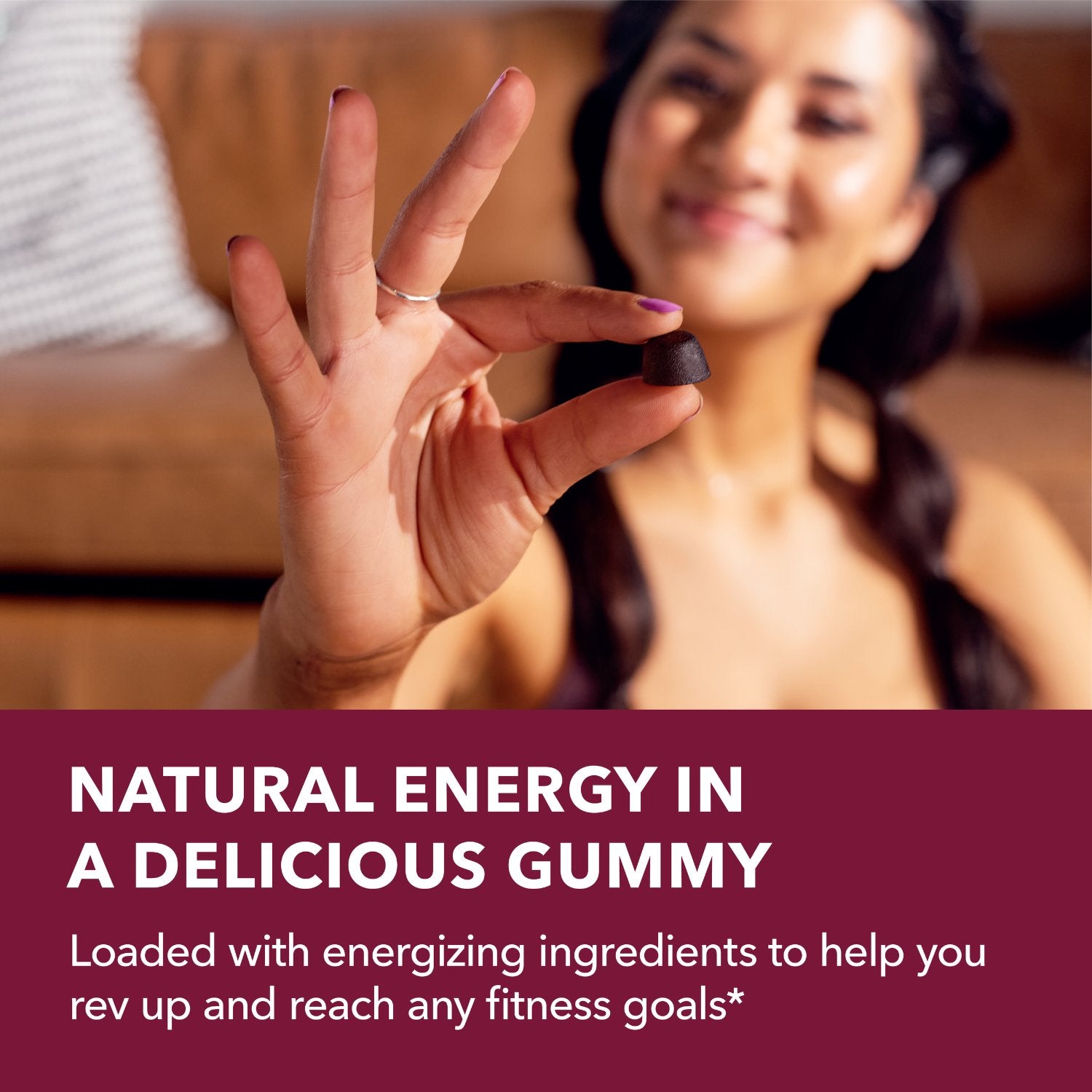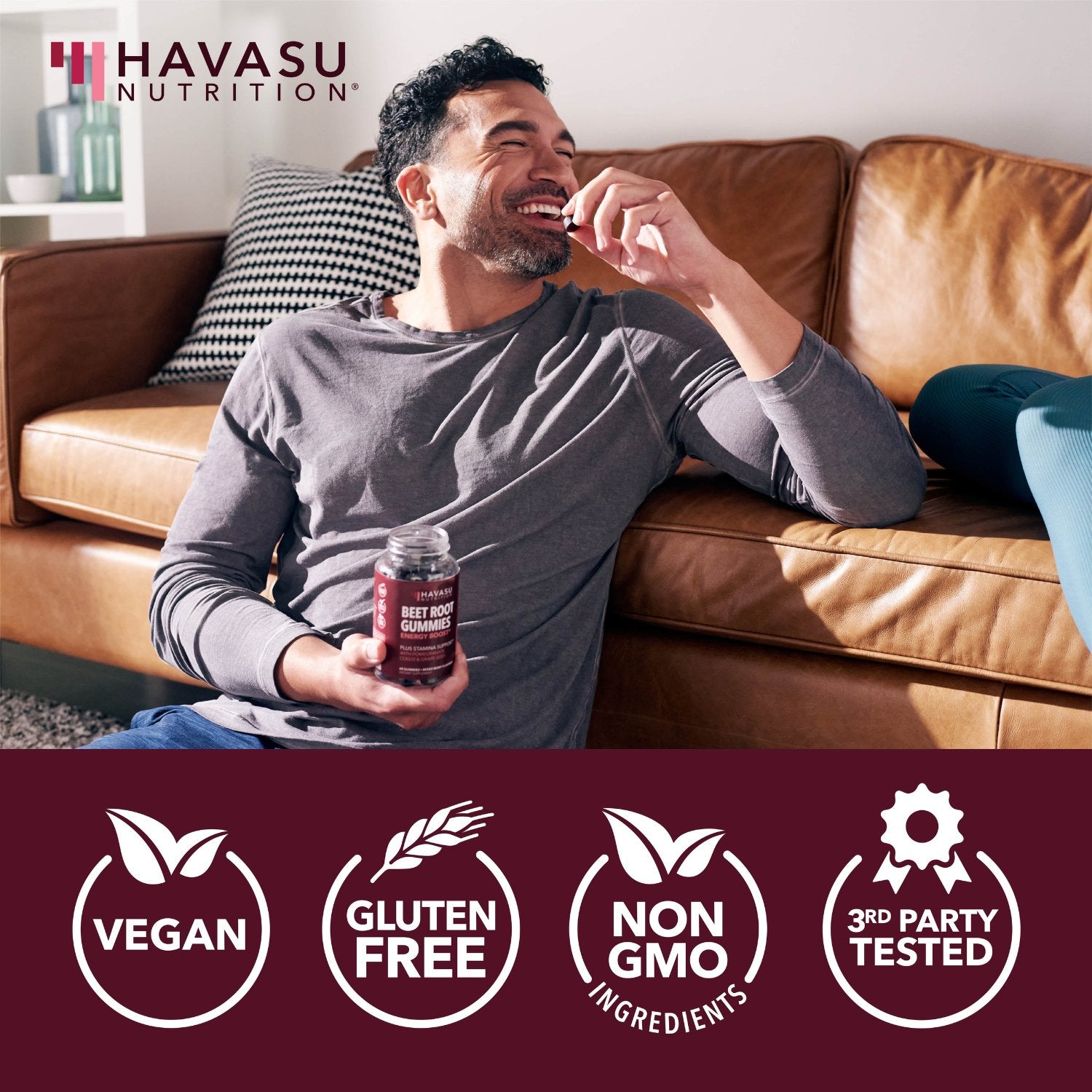 Un-BEET-able Beet Root Gummies
Who knew that this little red root vegetable has so many impressive benefits? Beets are packed with essential vitamins, minerals, polyphenols and powerful antioxidants. They are also one of the richest sources of nitrates—a potent compound clinically proven to improve blood flow and heart health.† Consuming foods rich in nitrates such as beets, assists the body's production of nitric oxide. Support your body's production of nitric oxide with our unique blend of Beet Root, Grape Seed Extract, Pomegranate Juice and CoQ10.† This combination of heart and energy supporting nutrients is offered in a convenient, yummy mixed berry flavored gummy.
Havasu Nutrition's Beet Root Gummies are Non-GMO Project Verified, NSF Certified Gluten Free and Certified Vegan.
Supports Heart Health

†

Promotes Energy Production

†

Muscle Growth & Recovery

†

Helps Build Healthy Blood Cells

†

Plant Based
Take 2 gummies, preferably with a meal
Improve blood flow & stamina †
Reduce muscle recovery time †
Boost energy so you can workout harder and longer †
Free shipping in the US on orders over $35!
BEETROOT FOR NATURAL ENERGY
All of the benefits from beetroot packed into a convenient yummy gummy
Reduce muscle recovery time †
Boost performance & endurance †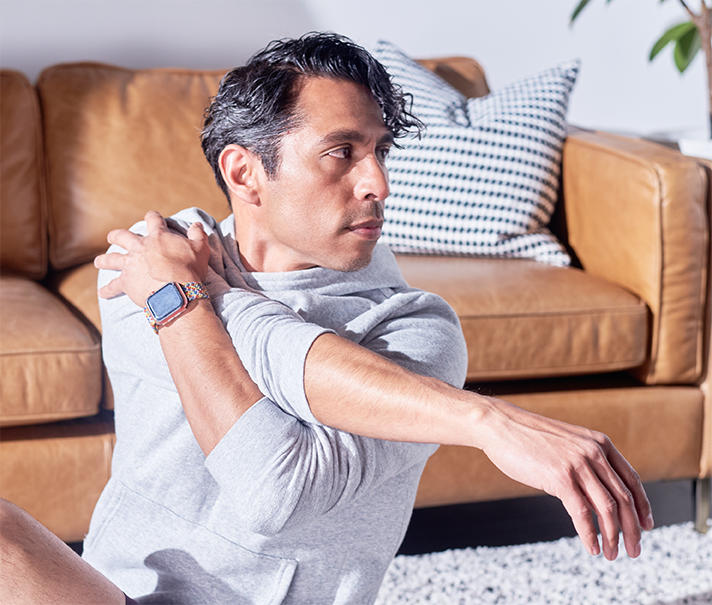 GMP certified
Gold standard in product quality and safety
Price-match guarantee
Safe money when ordering with us
Hassle-free exchange
30-Day Money Back
4.8 Reviews
Customer satisfaction #1 priority
FREQUENTLY BOUGHT TOGETHER
Customer Reviews
Really works!!!
This really works.. I have had borderline high hypertension, have had for twenty years now. I've controlled it pretty well with diet and exercise but the older I've gotten the harder it is to keep in normal range with my busy lifestyle and sometimes bad lifestyle habits. I was recommended this by a friend, read the reviews, bought me a pack and after 3 days of taking three per day, my ranges went from 139/86 to 117/75. Thats without doing anything else. I think this is the real deal!!Nothing I've ever tried ever worked so well so fast. You gotta try it yourself to believe it.
Great Blood Pressure
Best Stuff Every! Even my doctor couldnt believe how well my blood pressure was. I like beets so this is very good. The taste is good as well. I recommend this product to all my friends. I had too many side effects from the products Prescribed for me.
SuperBeets works for me.
I'm 6'2, 225lb, 45 year old fairly active male who's had higher blood pressure (145/90) most of my adult life. My last doctor's visit, the doctor wanted to put me on a BP medication. I thought I'd try a more natural approach first. Ive been taking SuperBeets for about two weeks now and my daily reading is now 125/75. I haven't changed anything else in my diet. The chewies must be working and I think they taste pretty good.
Energy Found
First day (2 supplements) and I am amazed!! The energy that I received from my first dose is amazing!! Im a single parent and in my late 30s have put on several extra pounds From being sedentary at work and eating high calorie foods with my son. Today, during our evening walk I actually had the energy and drive to start running. Something Ive been wanting to do for a long time now and Superbeets gave me the energy to start!! So far love them!! Cant wait to see how I feel after my first bag.... I will review them again but, thus far I am very pleased!!
PAD godsend!
I have light PAD and these things work amazing to increase blood flow in the legs and keep them from feeling stiff and heavy all the time. They do help with ED as well, an unintended side effect!
HAVE A QUESTION? GREAT, ASK US!
They perform extremely good as your nitric oxide booster! Naturally, beetroot benefits the body by supporting blood vessel health for better performance and elevated energy levels. This is the primary element of our Beet Root Gummies which are infused with grape seed extract, pomegranate juice powder and COQ10.
Yes! These gummies are perfect to hype you up for a busy, active day ahead. Make sure to take no more than TWO gummies per day, preferably with a meal or as directed by your healthcare provider.
When taken improperly and without supervision from a medical practitioner, they may lead to mild allergic reactions, upset stomach or dizziness during pregnancy. Havasu Nutrition encourages you to seek professional advice from your healthcare provider, especially if you are contemplating pregnancy.