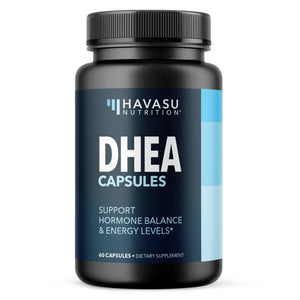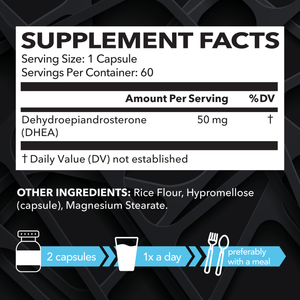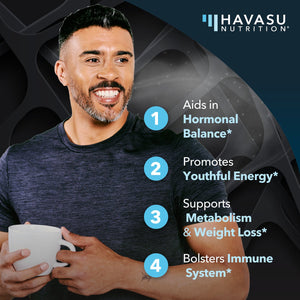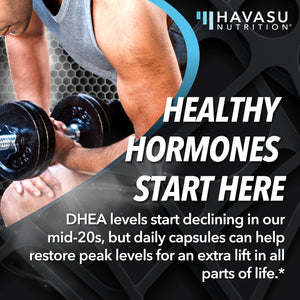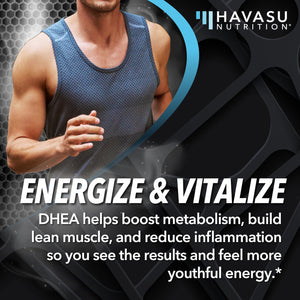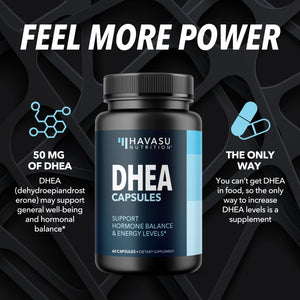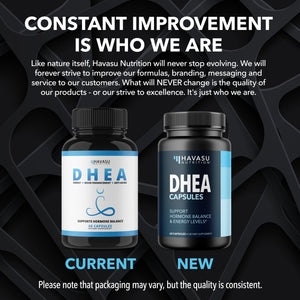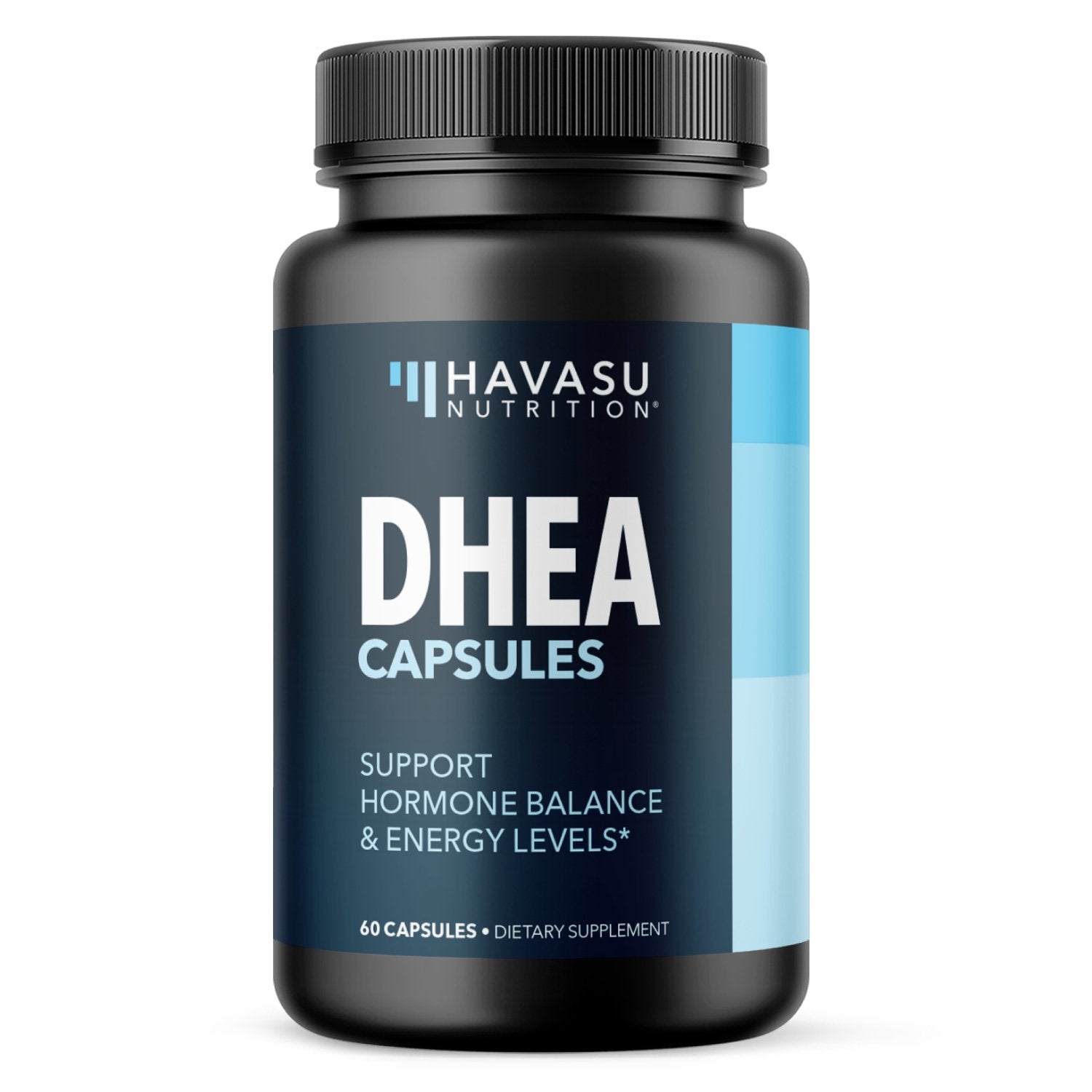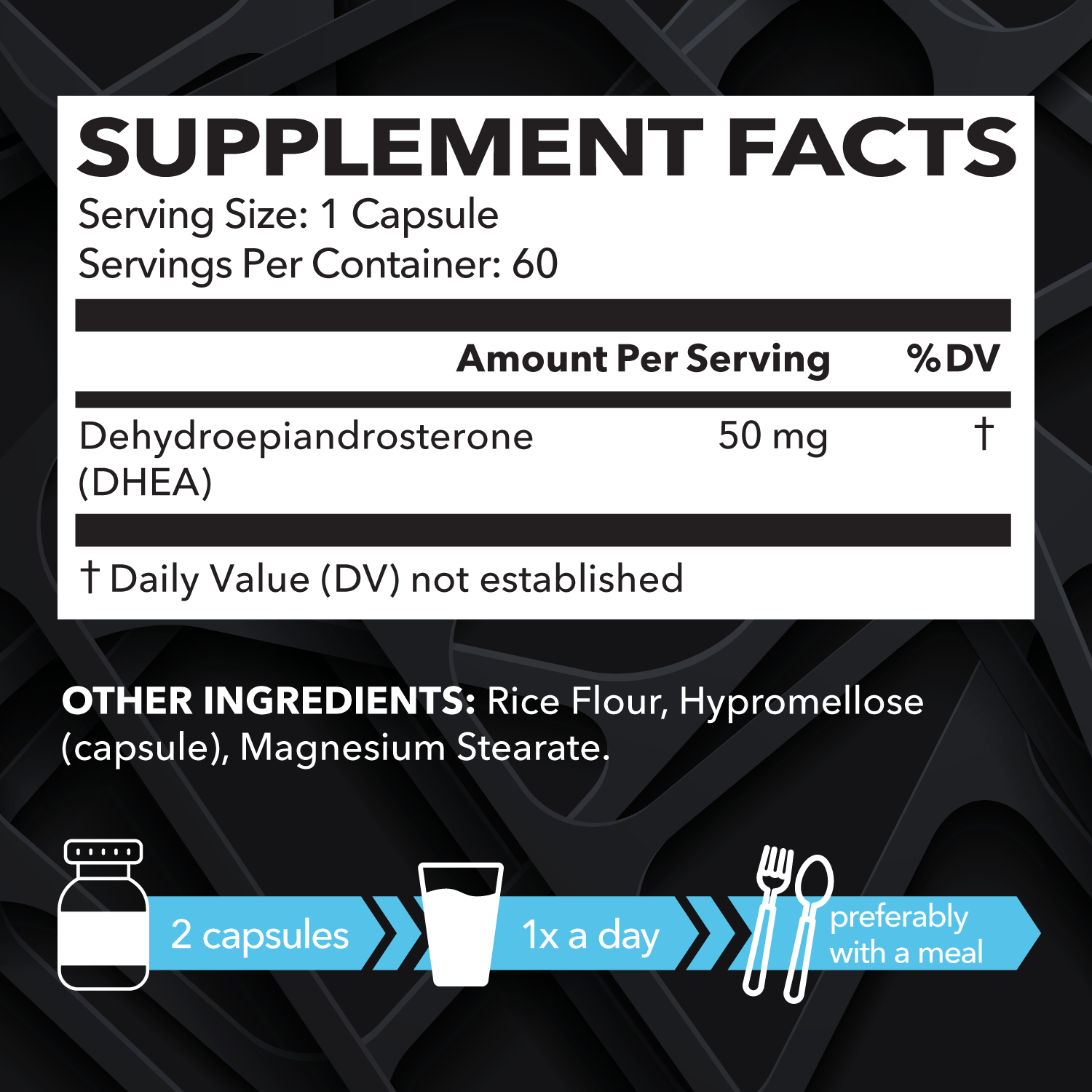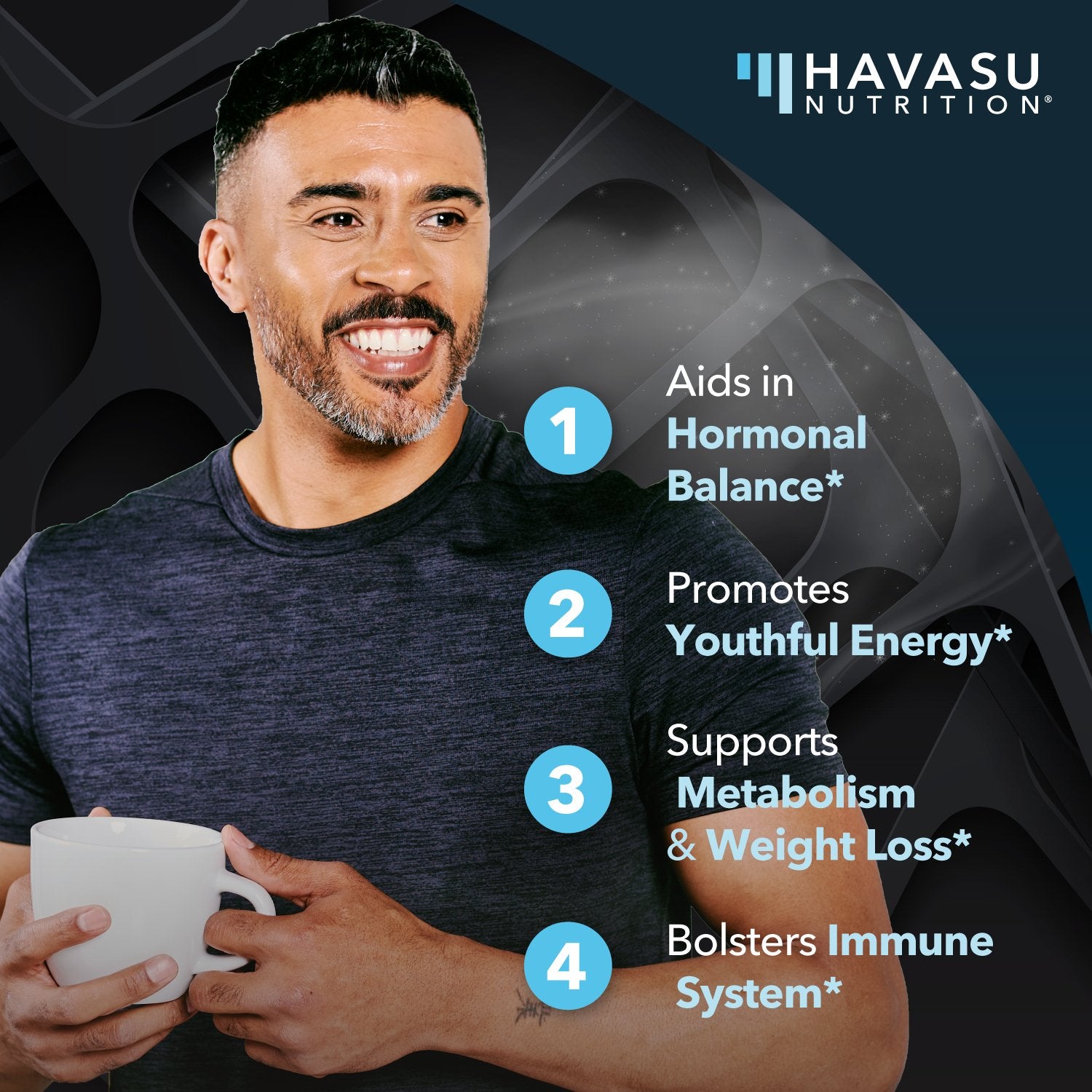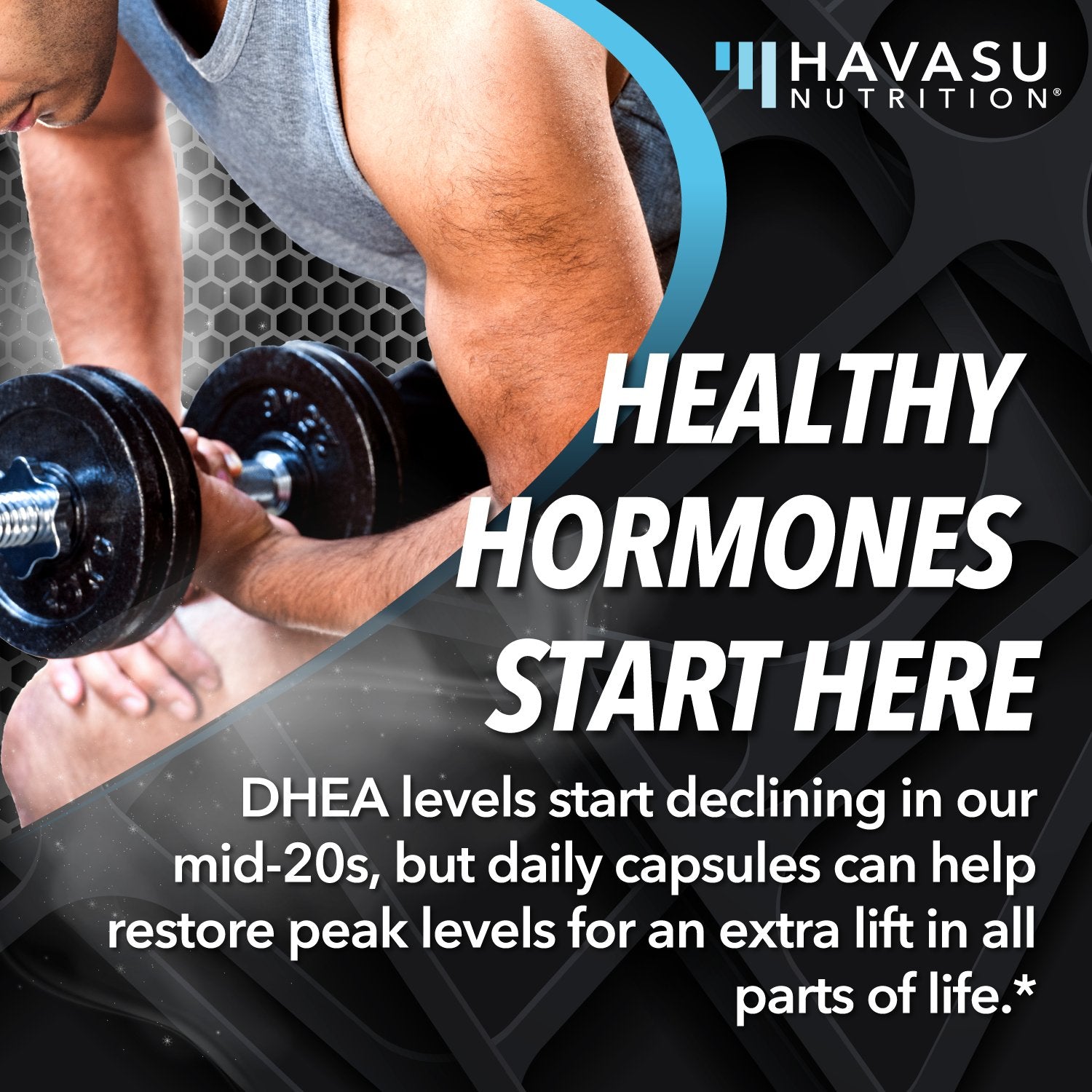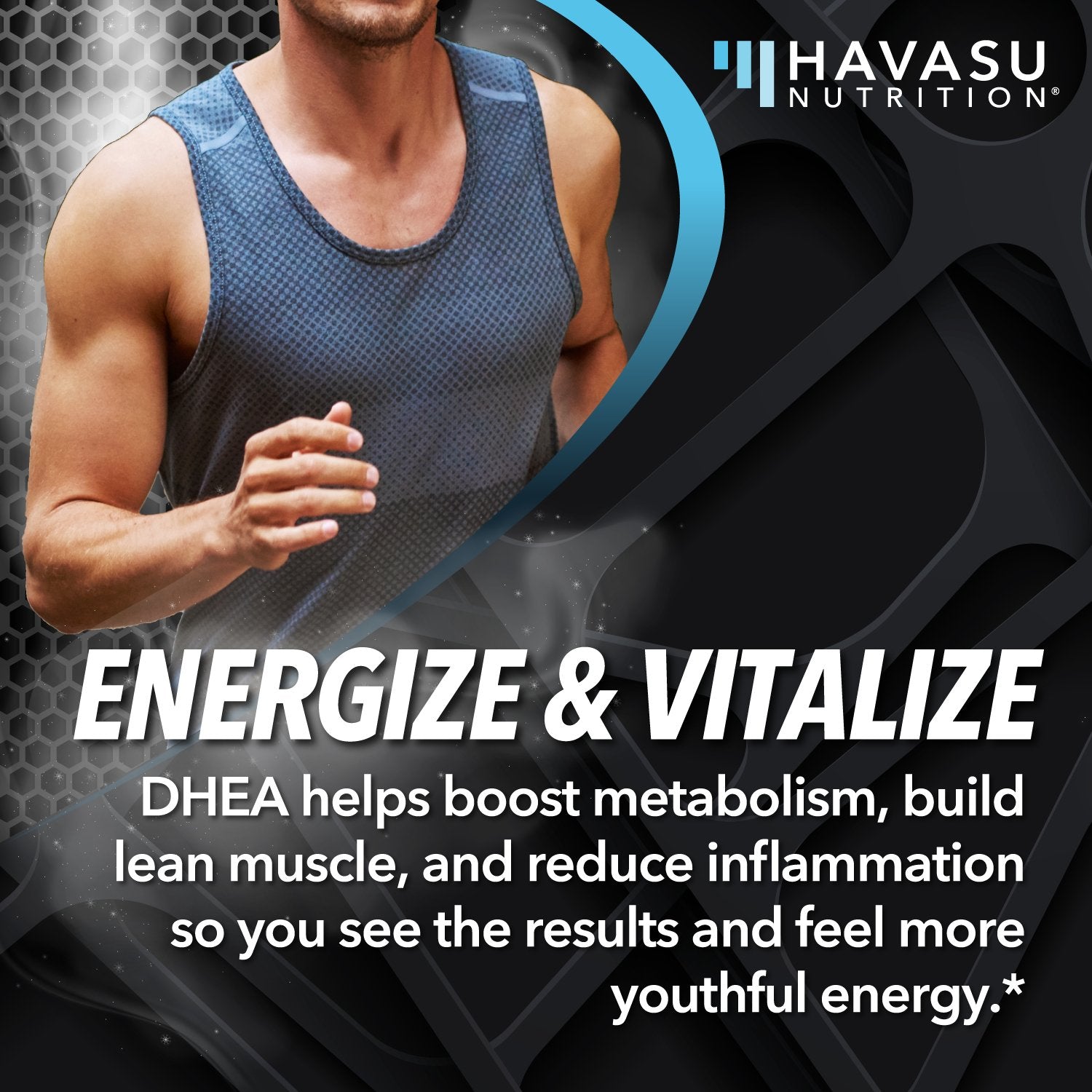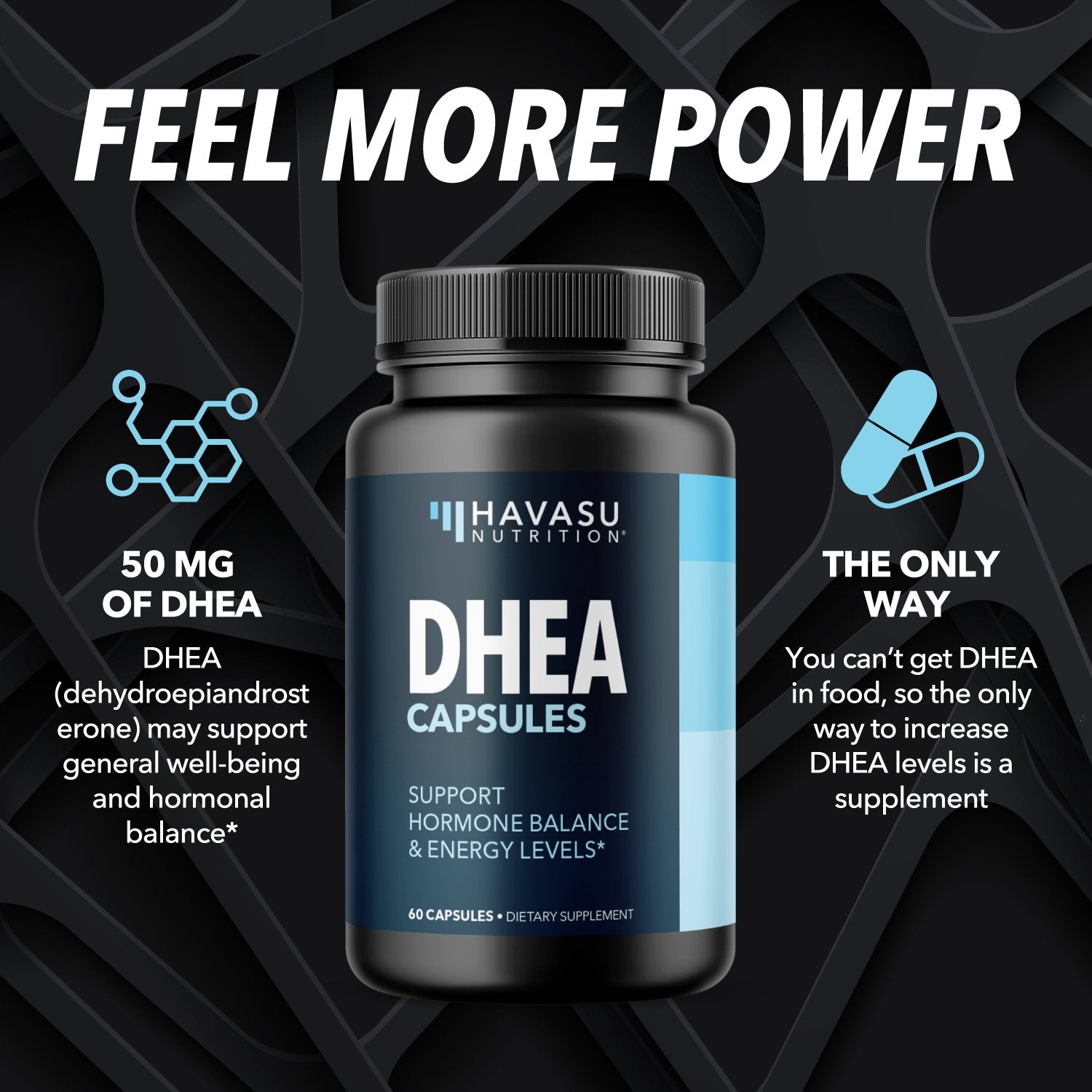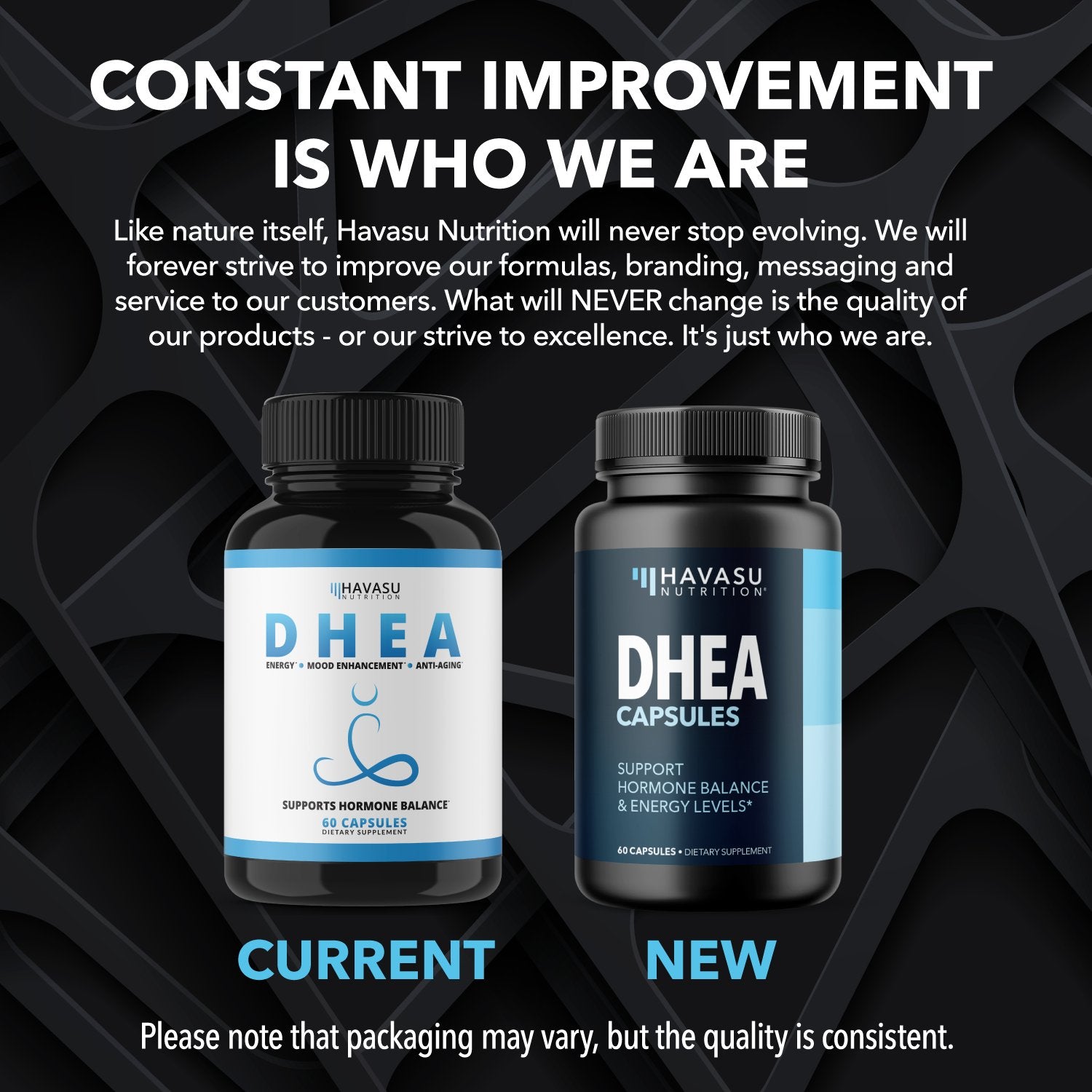 Feel Younger with DHEA Capsules
DHEA levels begin to decline once we hit our mid-20s. The benefits of DHEA supplements include maintaining youthful levels of the hormone, while also encouraging healthy immune function, cardiovascular health, healthy sexual function and more.

In taking Havasu Nutrition DHEA Capsules, you increase balance of hormonal functions while facilitating boosts in energy, weight loss and other benefits.† In addition, the supplement helps to support fitness endurance and lean muscle mass; promoting increased physical performance and helping for a more toned look.†
Supports Anti-Aging Benefits

†

Promotes Cardiovascular Health

†

Enhances Sexual Wellness

†




Reduces Possible Weight Gain†
DHEA is a natural energy supplement for women and men, produced and secreted by the body. It can help support the maintenance of a healthy weight, muscle mass and mood.† Our DHEA formula contains NO preservatives, chemicals, or sugars. It is non-GMO and undergoes stringent third-party testing and documentation.

Supplementation of DHEA can be vital to healthy aging for both men and women. Many people experience a natural energy boost, mental clarity, less irritability and a balanced mood with our DHEA formula for women and men.†

Take 1 capsule a day, preferably with a meal
Supports Anti-Aging Benefits†
Promotes Cardiovascular Health†
Enhances Sexual Wellness †
Reduces Possible Weight Gain†
Free shipping in the US on orders over $35!
DHEA TO SUPPORT MENTAL & PHYSICAL HEALTH
Natural energy boost, mental clarity and a balanced mood with DHEA
Supports Anti-Aging Benefits†
Promotes Cardiovascular Health†
Enhances Sexual Wellness †
Reduces Possible Weight Gain†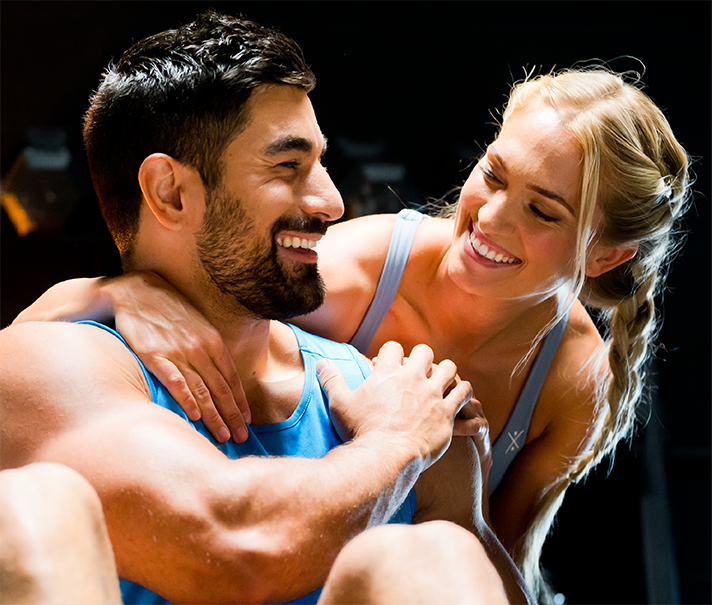 GMP certified
Gold standard in product quality and safety
Price-match guarantee
Safe money when ordering with us
Hassle-free exchange
30-Day Money Back
4.83 Reviews
Customer satisfaction #1 priority
FREQUENTLY BOUGHT TOGETHER
Customer Reviews
DHEA Capsules
Just started using HAVASU DHEA and am so far satisfied with the product. Thank you.
Changed my life.
People are affected differently by seeing so many reviews. It was a major change in my life and I'm still on the road to recovery. I'm 58 years old. My body started down the slippery slope a few years ago, like I was 20 years old. I began taking DHEA almost a year ago and have been watching my body transform week by week, month by month, getting muscle tone with minimal exercise and smoother skin. It may not work for everyone, but it's a small investment to try it out.
It helps keep T count correct.
My husband's doctor told him to take this to get his testosterone up because his shots aren't getting it to the right level. He won't have to increase his testosterone dose. A higher risk of blood clot and other issues could be caused by increasing it. The DHEA works with the T dose he's on to balance it out. I'm thankful it's available on the internet.
There is more energy.
It was easy to swallow and had more energy after a couple of weeks.
Great product.
I like this product because it helps me with my hot flashes.
HAVE A QUESTION? GREAT, ASK US!
Among DHEA benefits are the potential to regulate hormone balance, youthful energy, stronger immunity and healthy metabolism and weight management. DHEA is a hormone naturally produced by the human body, but which may be depleted as you reach your mid-twenties. That is why DHEA vitamins are important to support optimal wellness.
The human body naturally produces the hormone DHEA, but as adults reach their mid-twenties, our body's DHEA levels may decrease. Decreased DHEA levels may trigger fatigue and slower metabolism.
Daily consumption (take ONE capsule per day, preferably with a meal) of Havasu Nutrition's DHEA vitamins helps your body regain its peak performance by reintroducing youthful energy, balanced hormones, healthier metabolism and fortified immunity.