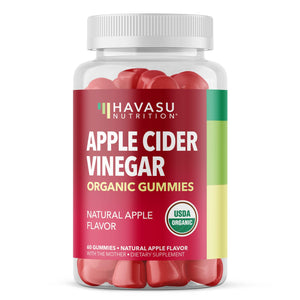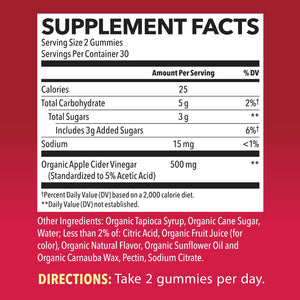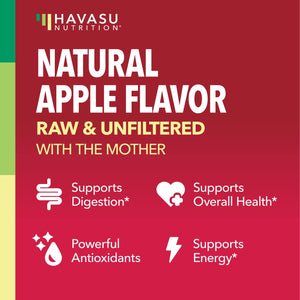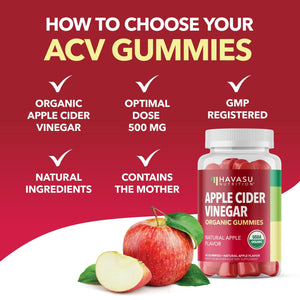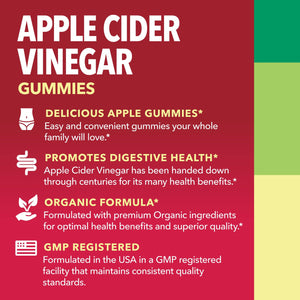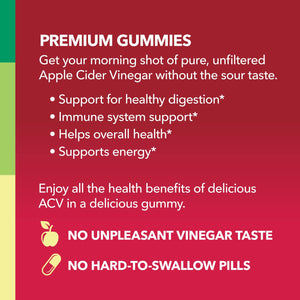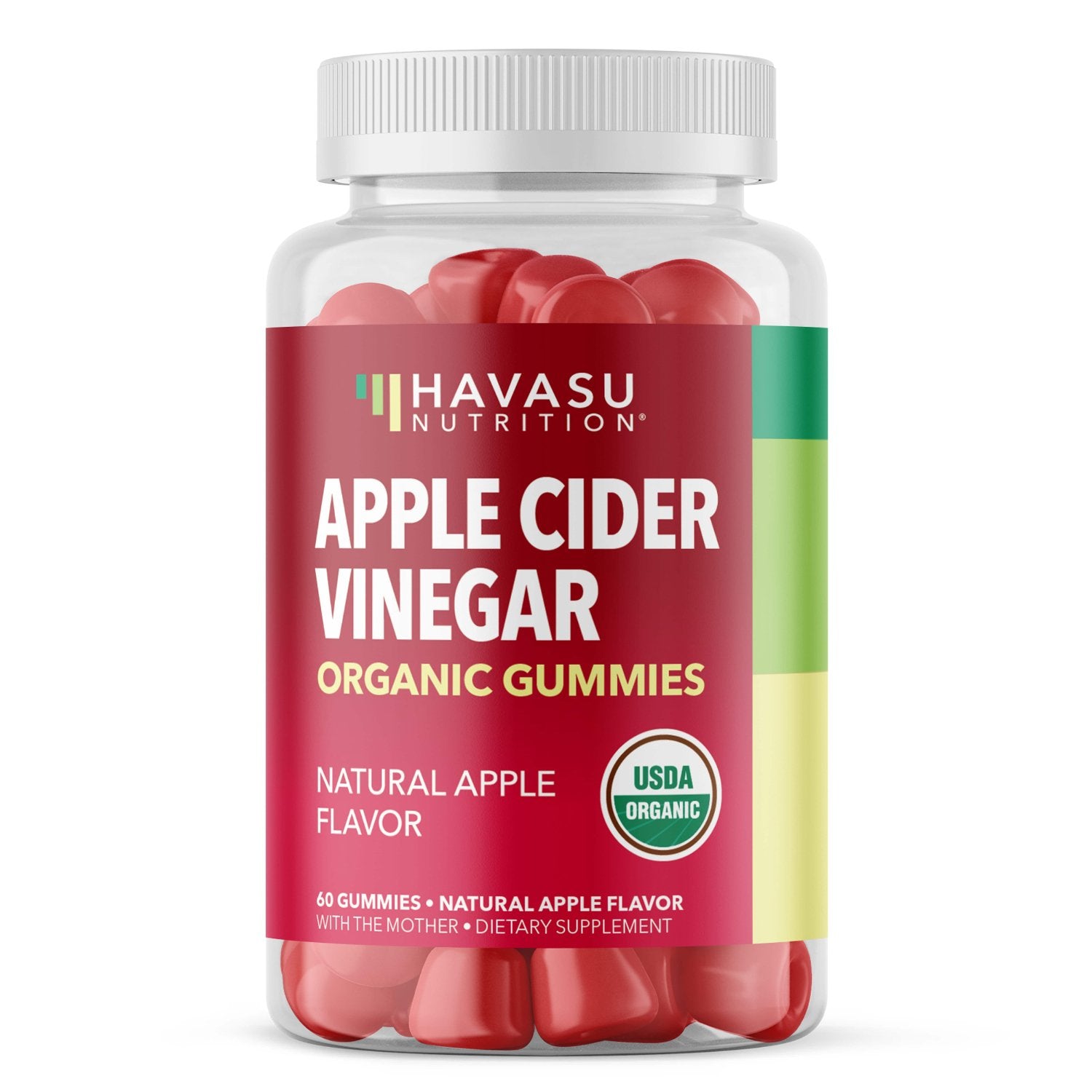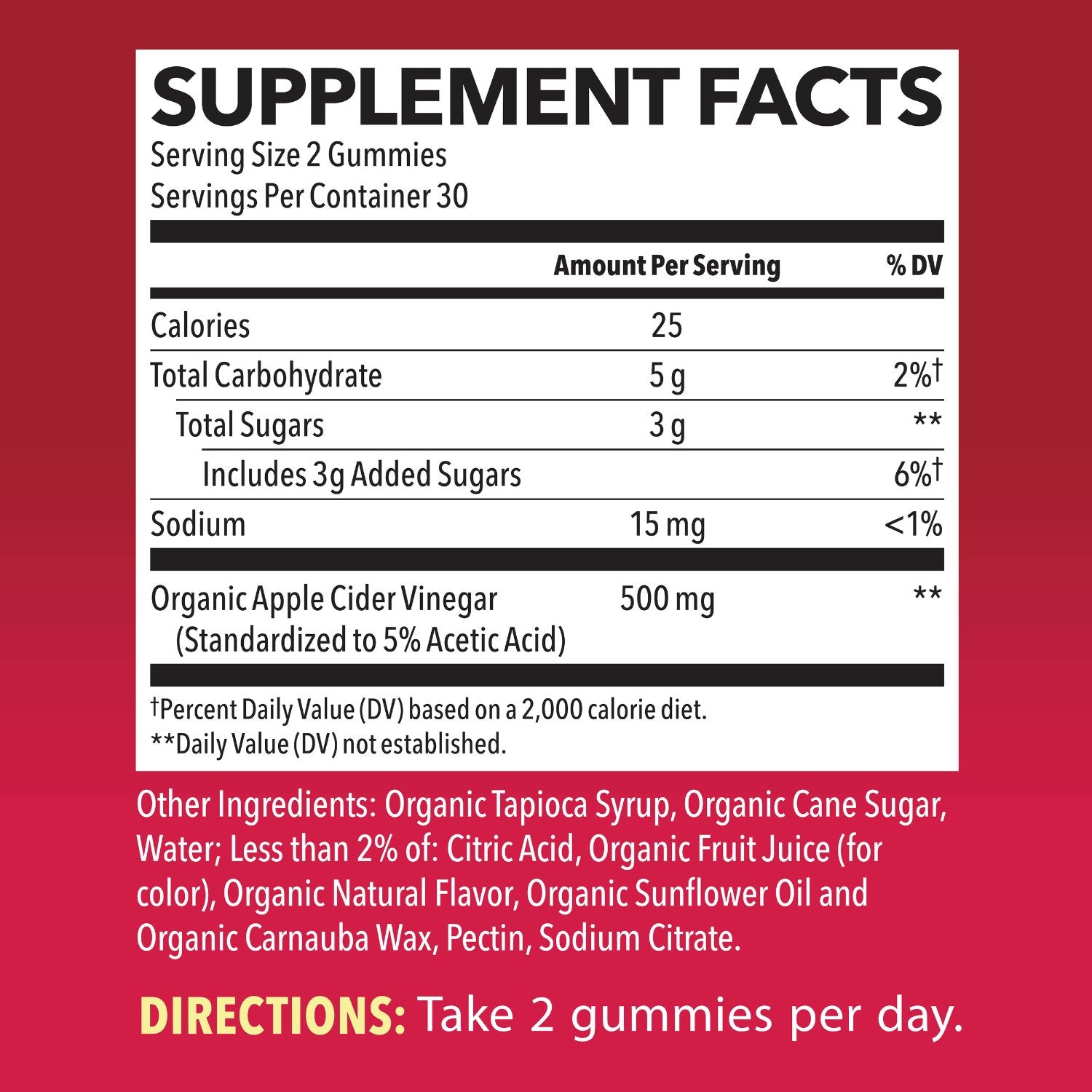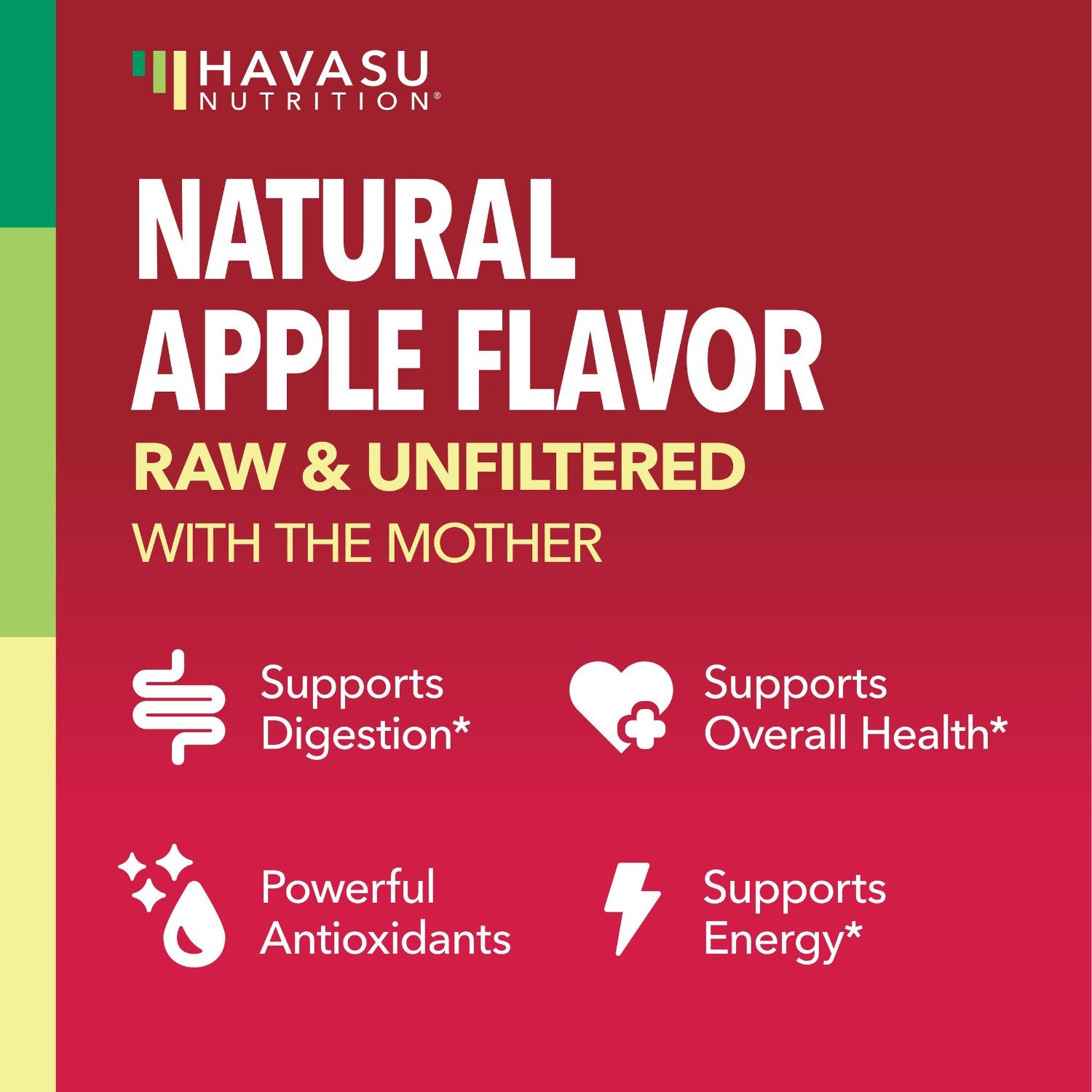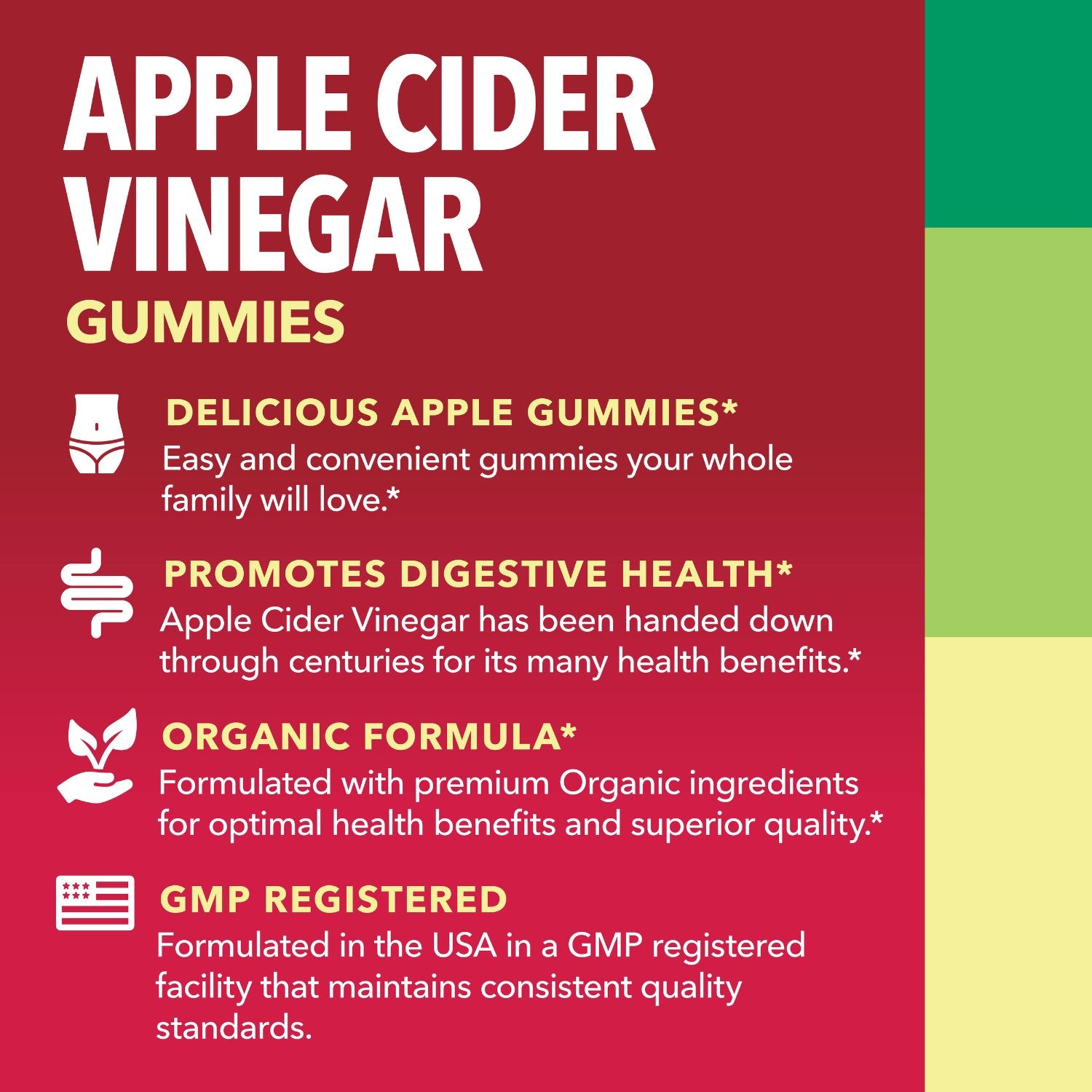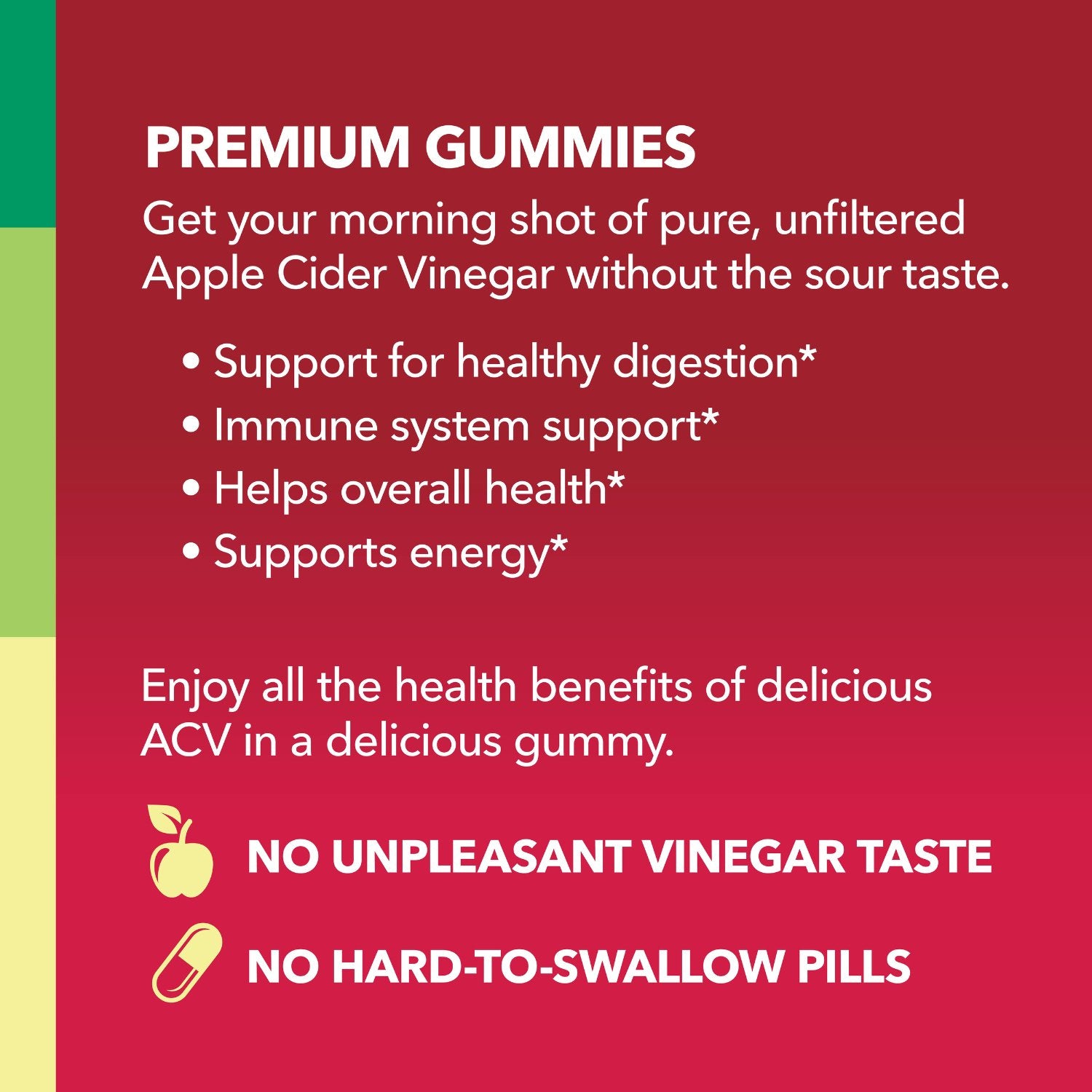 Apple Cider Vinegar Gummies
Clinically proven benefits; apple cider vinegar is a popular home remedy used in cooking and daily supplementation for a wider range of health complaints including increased metabolism, reduction of belly fat, and suppressed appetite

Two step process for perfection; our experts use crushed organic apples in combination with organic yeast to ferment the sugars, turning them into beneficial alcohols; to further ferment, we add good microorganisms to turn it into our organic acetic acid, the main component in our apple cider vinegar; we don't mess around because we only use the main component and don't add the extras that other competitors use to try and hide the quality of their ACV

Age old tradition made delicious; with the expertise of our researchers in combination with the traditional use of ACV, we have carefully crafted a gummy that is delicious; you can get all of the same benefits of apple cider vinegar liquid without the yucky taste; with just two gummies daily, you are well on your way to a body detox

The mother finally explained; it simply means strands of protein, which contain enzymes and beneficial microorganisms, in organic apple cider vinegar, consisting of cellulose and acetic acid giving you a variety of benefits both in weight management & digestion; we use this mother fermentation so that you can get as much out of your gummy as possible

Vegan, organic, non gmo, gluten free & gelatin free; each bottle of our apple cider vinegar gummies contains 60 delicious vegan, organic, non gmo, gluten free & gelatin free organic apple cider vinegar gummies; our formula will make apple cider vinegar accessible to anyone and everyone
Naturally flushes out toxins †
Boost energy levels †
Aids in healthy weight management †
Helps reduce bloating †
Free shipping in the US on orders over $35!
APPLE CIDER VINEGAR FOR A FULL BODY BOOST
Give your wellness goals an extra hand
Helps maintain healthy blood sugar levels†
Provides a natural energy boost †
Helps support weight management †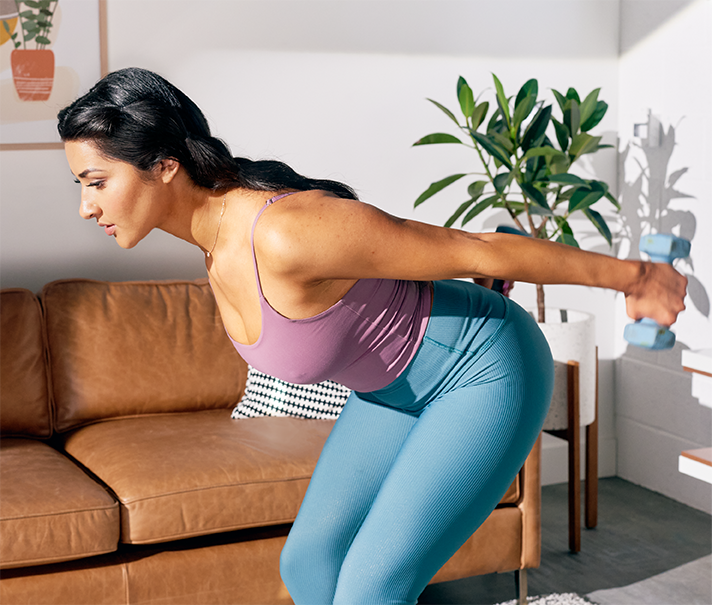 GMP certified
Gold standard in product quality and safety
Price-match guarantee
Safe money when ordering with us
Hassle-free exchange
30-Day Money Back
4.44 Reviews
Customer satisfaction #1 priority
FREQUENTLY BOUGHT TOGETHER
Customer Reviews
I did not receive the night time fat burner I ordered.
I'm really glad and surprised
For the past two weeks, I've been taking two gummies per day. I've lost 5 pounds of covid quarantine weight that I've been attempting to shed for months despite not changing my food or exercise routine! My hubby now desires his own bottle!
Excellent
I like the health advantages of apple cider vinegar but not the flavor. The gummies have a faint ACV aroma but no taste. I take these for overall immunological health and can't say enough good things about them!
Delicious and awesome
These gummies are fantastic. They have eased my digestion and resulted in less unpleasant bloating. It smells a little strange when you first open the bottle, but it's actually quite tasty after you bite into one. This gummy has no side effects and produces excellent results.
I feel great and healthy again
I fractured my back and couldn't walk for two years, causing serious health problems and causing me to gain a lot of weight. I started running and lifting again, but after 40, the fat didn't seem to want to go away. I don't consume meat or dairy, and I exercise often, yet I still couldn't drop much weight. I tried a few other items but they didn't work most of them are for energy and include too many stimulants, making me nauseous. So I found them and have been using them for 60 days, and I honestly feel like I'm 20 again since I started taking them. I'm in terrific shape, and the fruits of my efforts are showing.
HAVE A QUESTION? GREAT, ASK US!
Havasu Nutrition's Apple Cider Vinegar Gummies contain raw and unfiltered organic ACV that supports gut health, boosts energy and are packed and loaded with antioxidants that help keep free radicals at bay. These delicious apple gummies promote digestive health which then triggers optimal well-being.
When accompanied by proper diet and exercise, you can utilize apple cider vinegar for weight loss as it supports healthier digestion, helps suppress appetite and boosts your energy levels to keep you active throughout the day.
They do! Organic apple cider vinegar benefits the body by helping increase metabolism and strengthen gut health. Apple cider vinegar liquids have been traditionally used in cooking and daily supplementation but is admittedly not the best to take because of its sourness. That is Havasu Nutrition made sure to create these gummies with only raw and unfiltered natural ingredients in an apple-flavored gummy. This way, you can access gut health without the unpleasant taste of its liquid form!