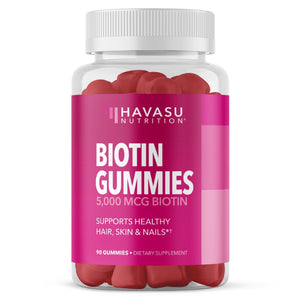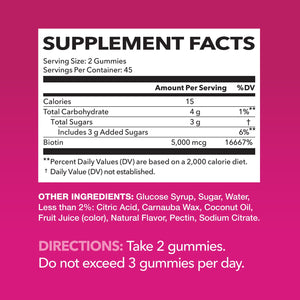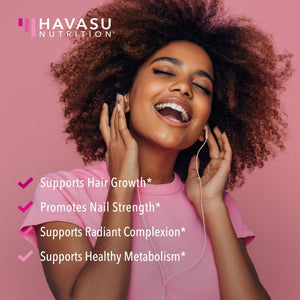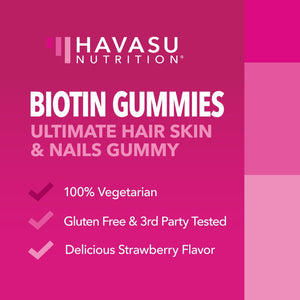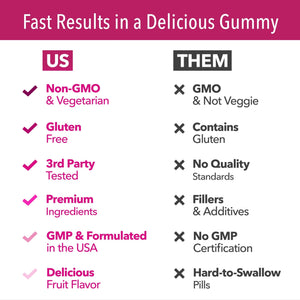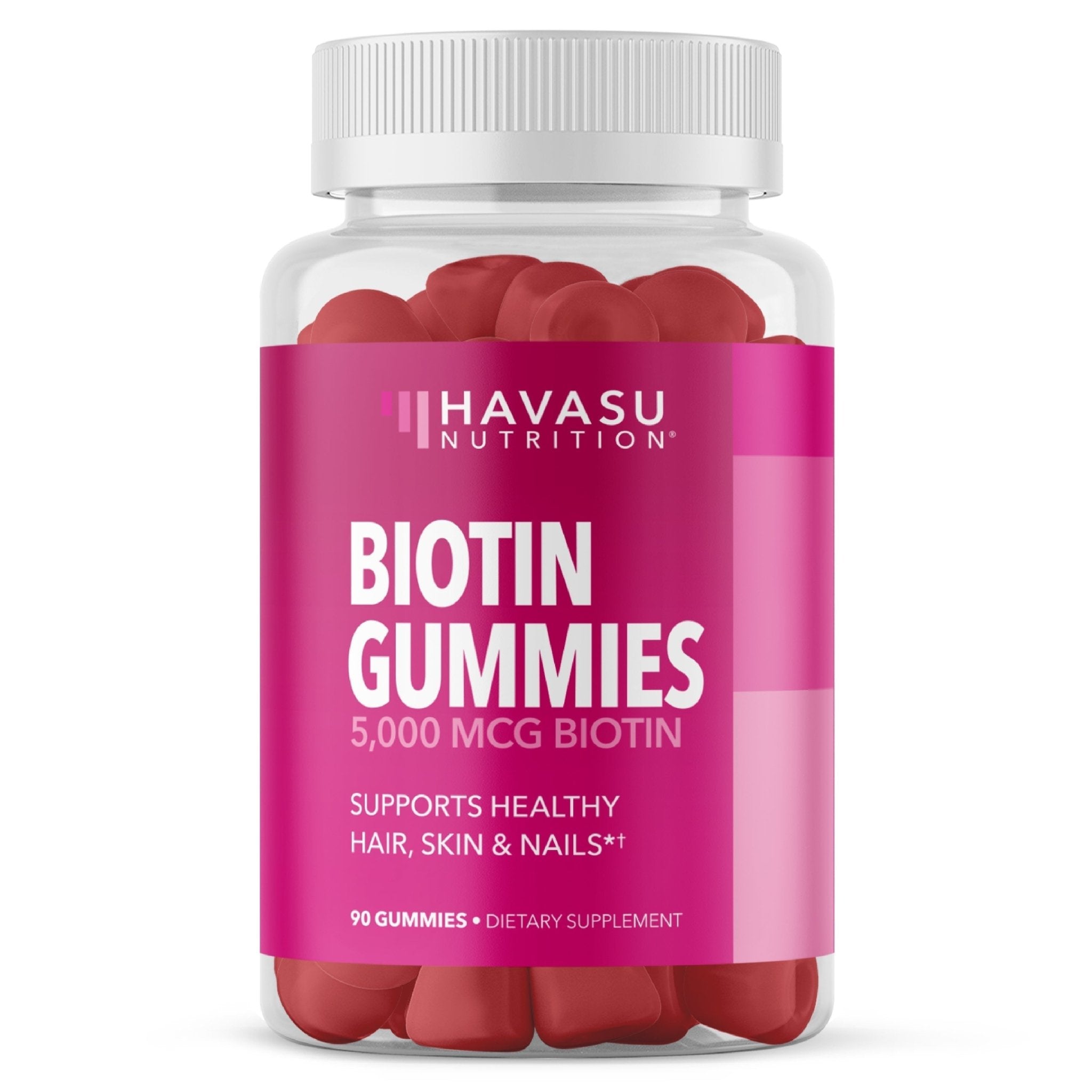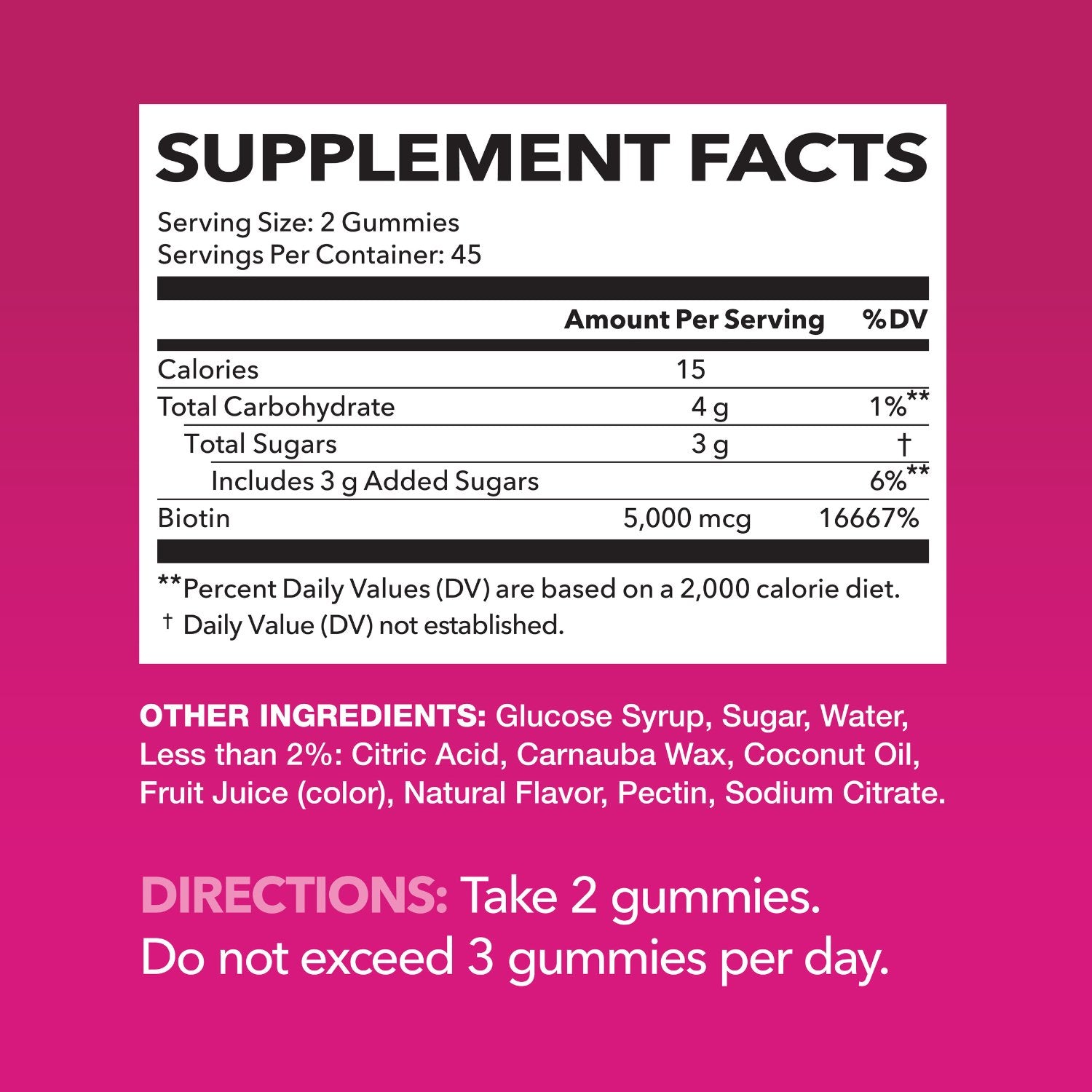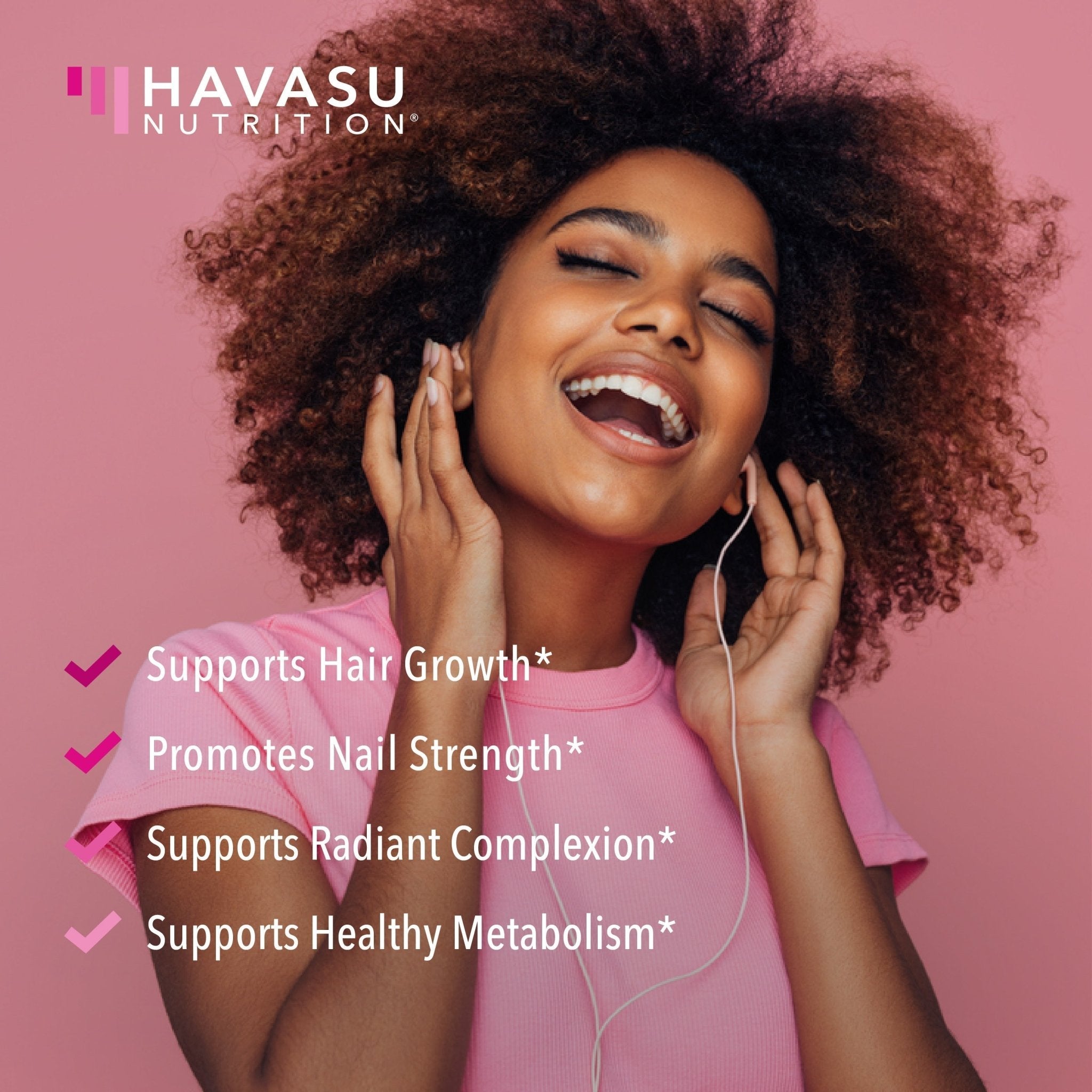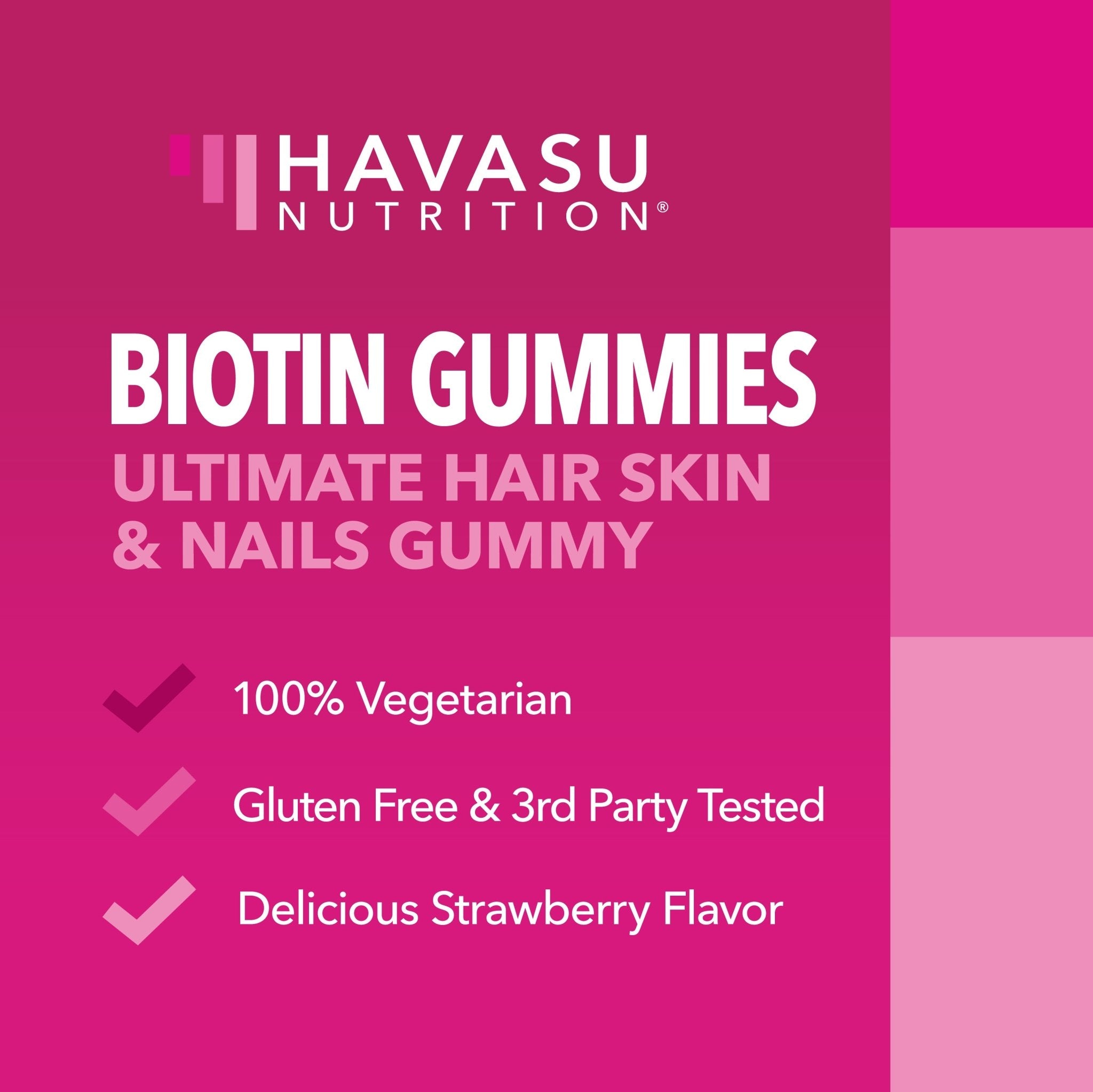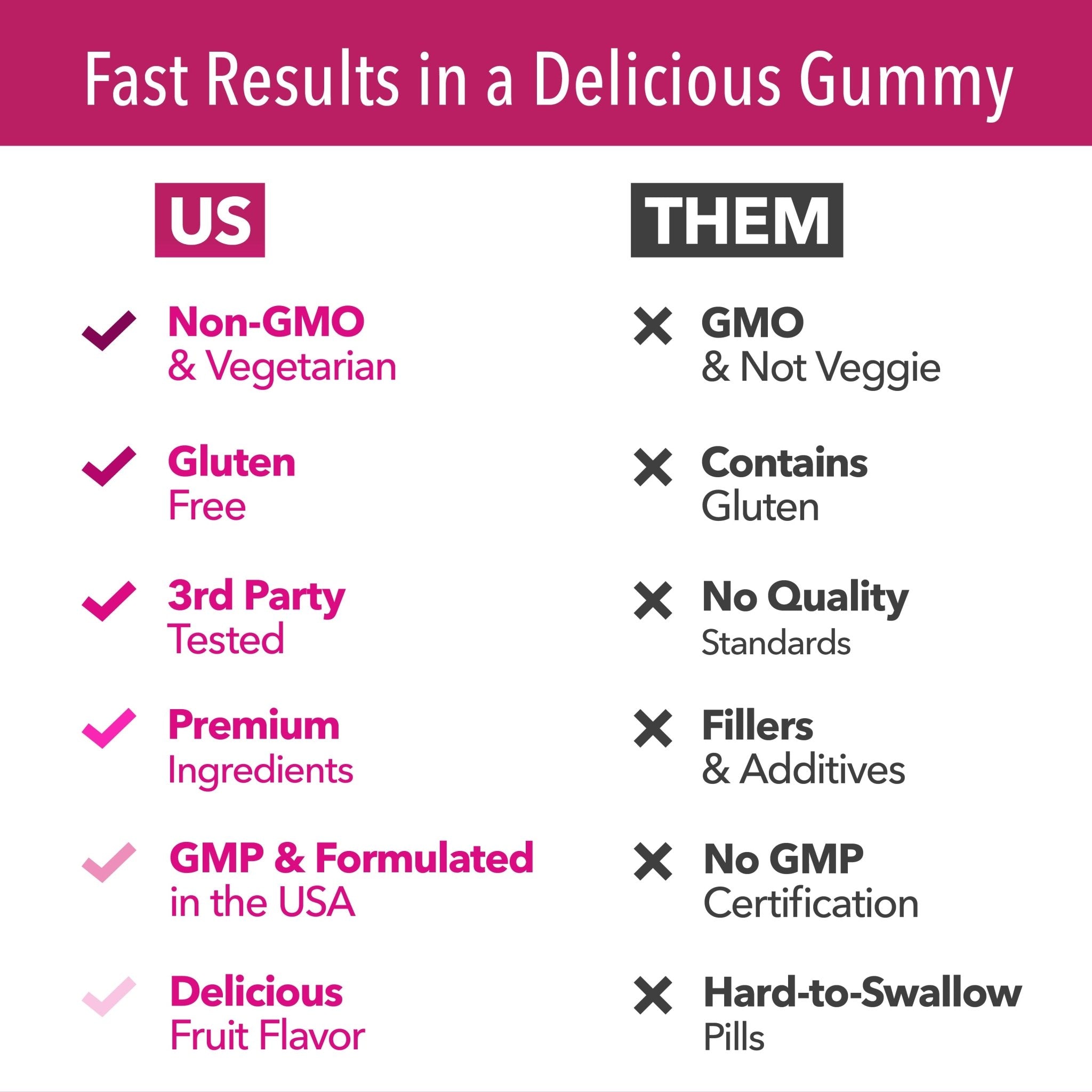 Biotin Gummies, Strawberry, 90ct
Biotin is a natural B-7 vitamin that works on a cellular level to support heathy hair, skin & nail growth. The vitamin also increases macronutrient metabolism rates to break down carbohydrates and fats in the body.*  
EFFICIENT & PRACTICAL SUPPLEMENTATION - With just one serving of our Biotin Gummies, the body will receive 1667% daily value (5000 mcg) of biotin. This optimal amount gives opportunity for healthier looking hair, skin & nails and improved metabolism of protein, carbs & dietary fats.*
DELICIOUS GUMMIES THAT FIT SPECIAL DIET NEEDS - Unlike other gummie vitamins, our product is free of high-fructose corn syrup, gluten free, vegetarian, kosher & GMO-free with the help of our pectin-based, high quality ingredients. At just 15 calories per serving, our Biotin Gummies are designed for those who are looking for easy-to-chew vitamins without the struggle of swallowing pills.  
HAVASU NUTRITION CUSTOMER COMMITMENT
Take 2 gummies a day. Do not exceed 3 gummies.
Support the body with hair, skin, and nail-boosting biotin †
Delicious strawberry flavor gummies †
Strengthen body tissues at the cellular level †
Free shipping in the US on orders over $35!
BOOST HAIR, NAIL & SKIN HEALTH
The ultimate beauty vitamins for women
Delicious strawberry flavor gummies †
Strengthen body tissues at the cellular level †
Hair and nail-boosting biotin †
Helps support healthy, youthful skin †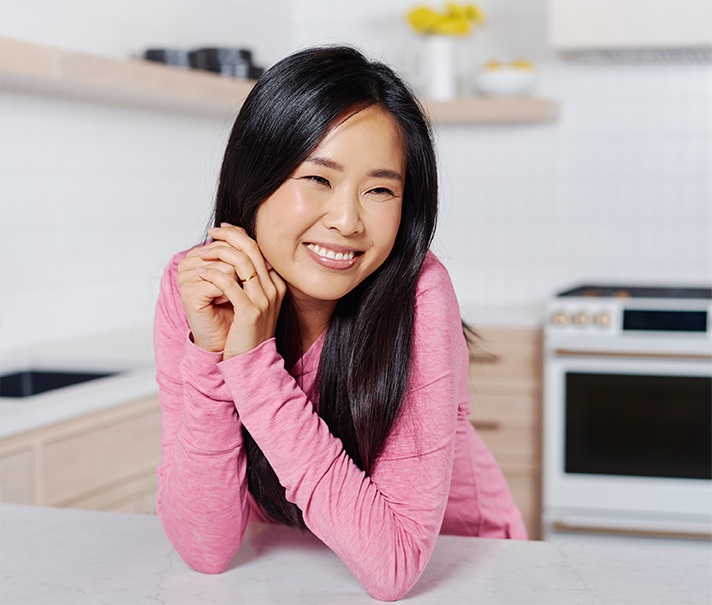 GMP certified
Gold standard in product quality and safety
Price-match guarantee
Safe money when ordering with us
Hassle-free exchange
30-Day Money Back
4.88 Reviews
Customer satisfaction #1 priority
FREQUENTLY BOUGHT TOGETHER
Customer Reviews
It was delicious.
I can't say much about my skin or my hair. It's a must to be patient.
Great taste and easy to chew.
Great taste! I have noticed that my hair is growing.
Great product.
My skin was softer, it was glowing and my hair was growing after I ate these gummies.
Really work.
They work more for length than for new hair.
HAVE A QUESTION? GREAT, ASK US!
Havasu Nutrition's Biotin vitamins are infused with 5,000 mcg of Biotin in each gummy to give you all the necessary benefits of biotin every single day. Our strawberry-flavored Biotin Gummies are your ultimate hair and skin supplement that support radiant complexion as well as healthy metabolism.
Yes! Biotin benefits the body by encouraging healthy hair growth, but it doesn't stop there! With 5,000 mcg of biotin infused in each serving, you will be getting so much more. Our 100% vegetarian gummies aim to supply wellness at a cellular level which also manifests in healthier skin and nails!
Definitely! Havasu Nutrition's delicious Biotin vitamins can be taken every day. Make sure to take no more than TWO gummies every day, preferably with a meal or as directed by your healthcare provider.