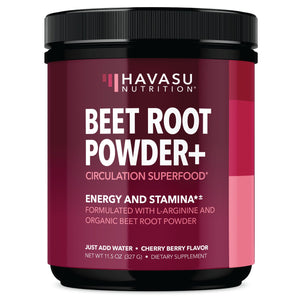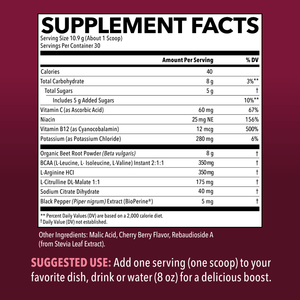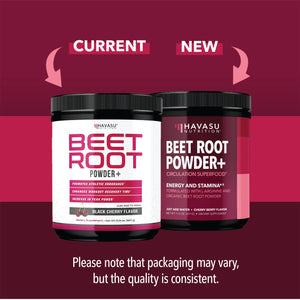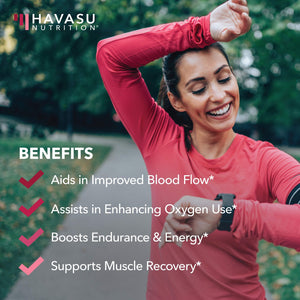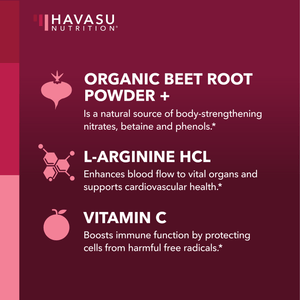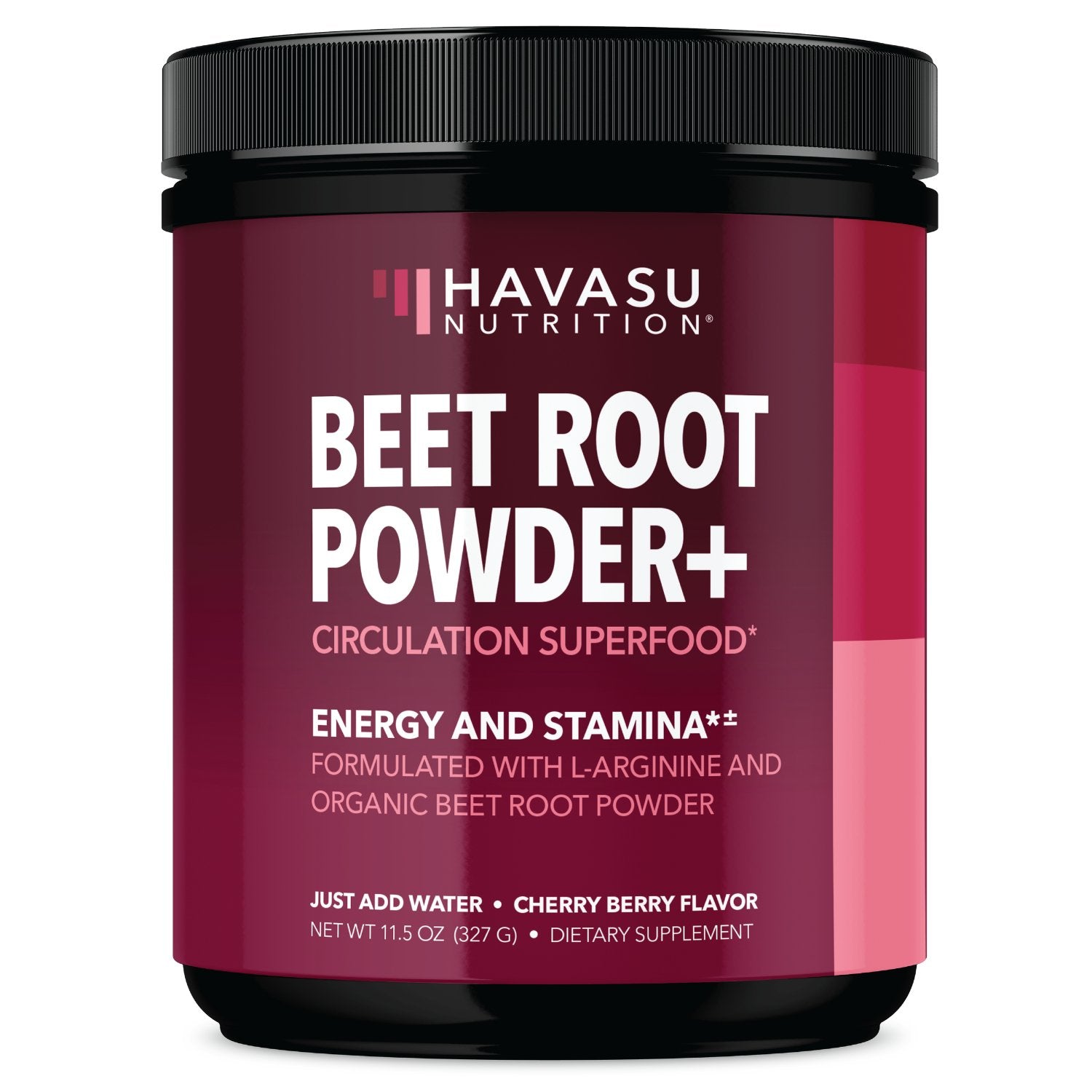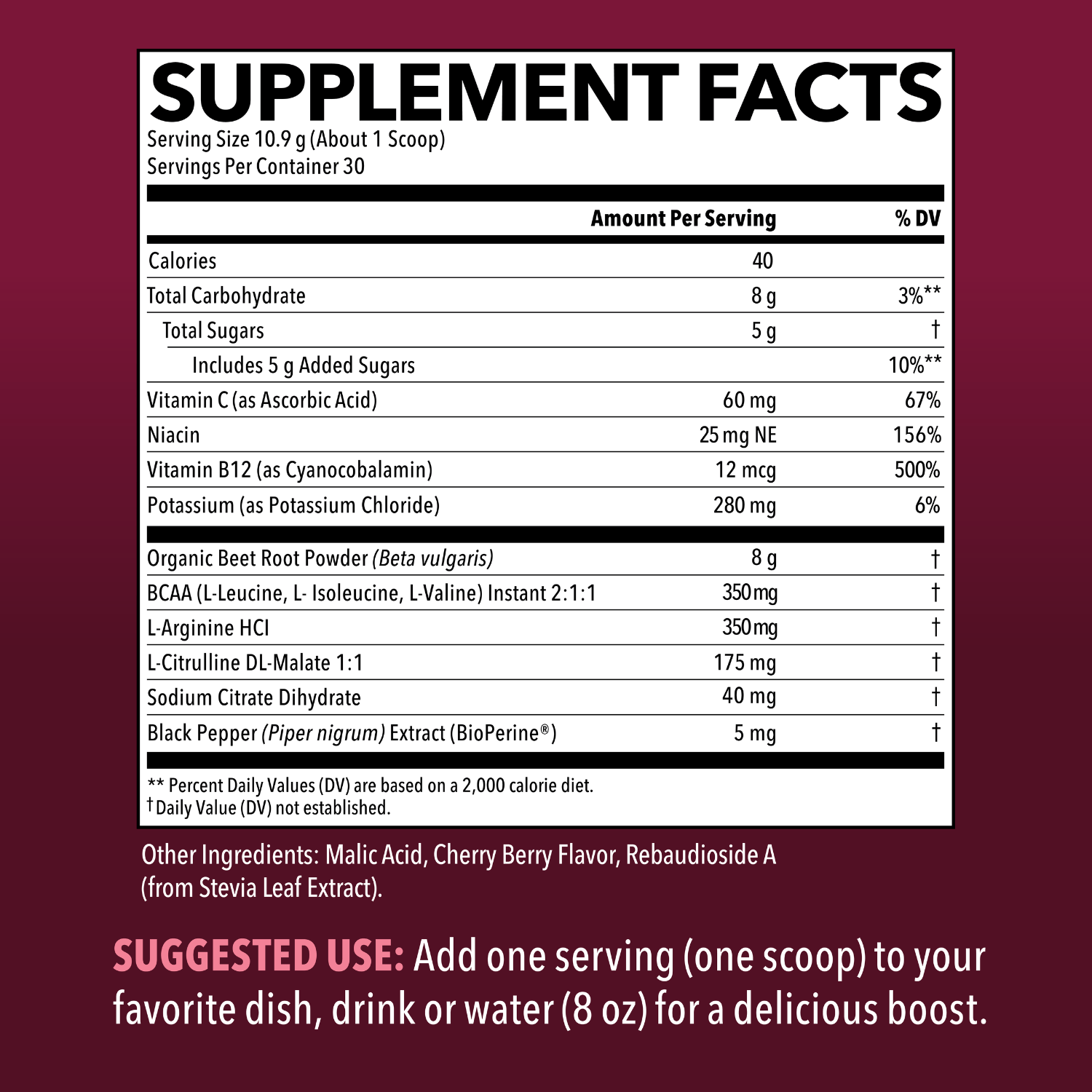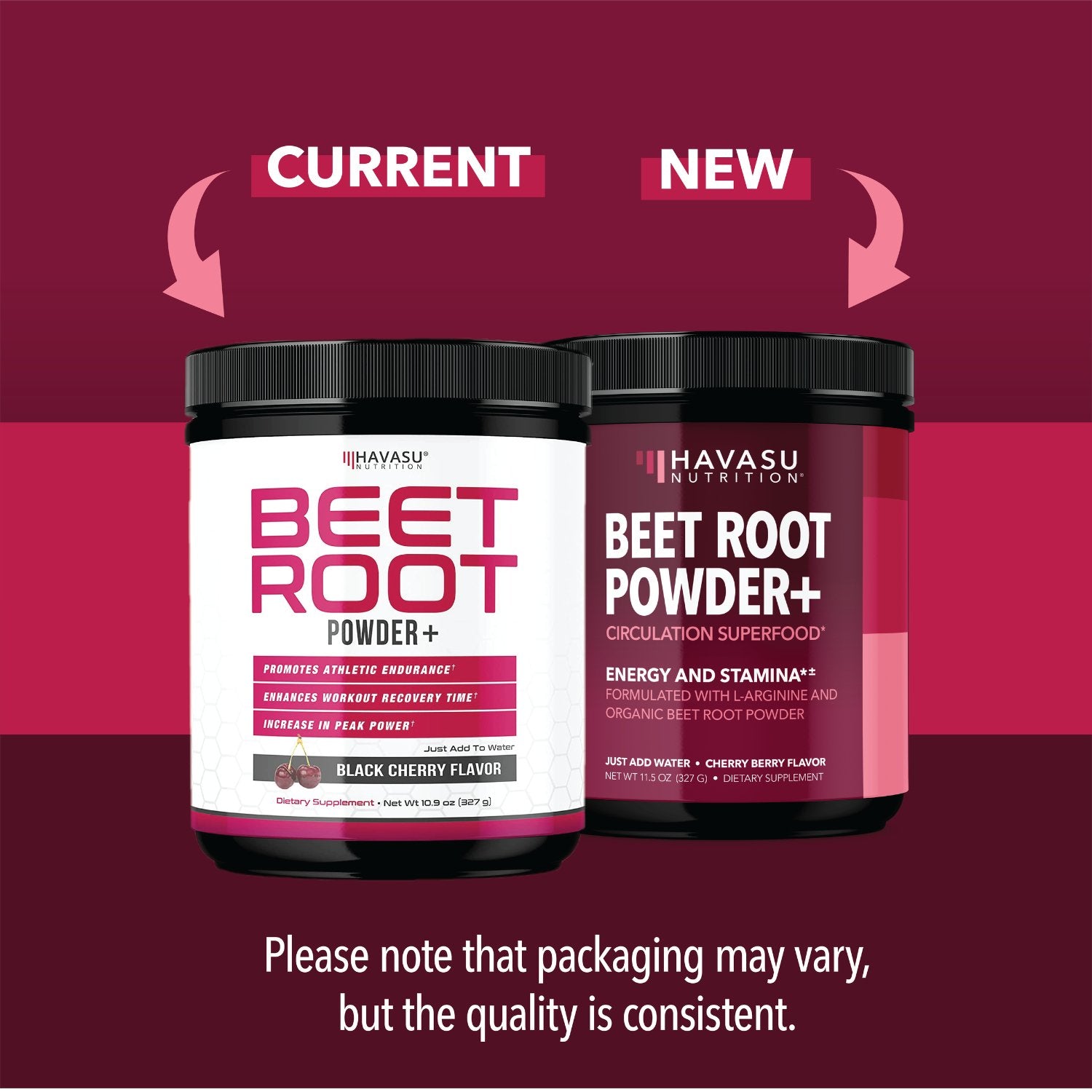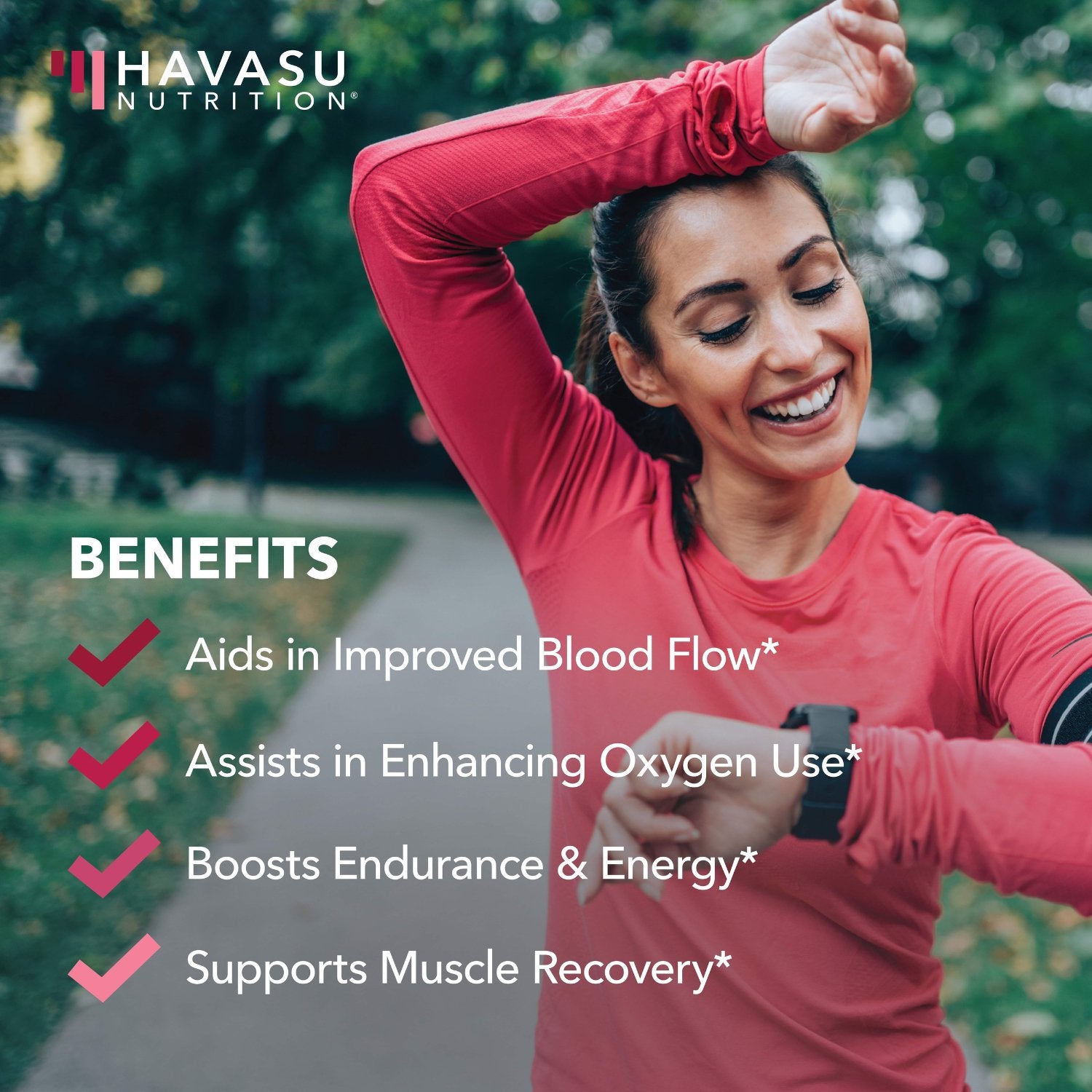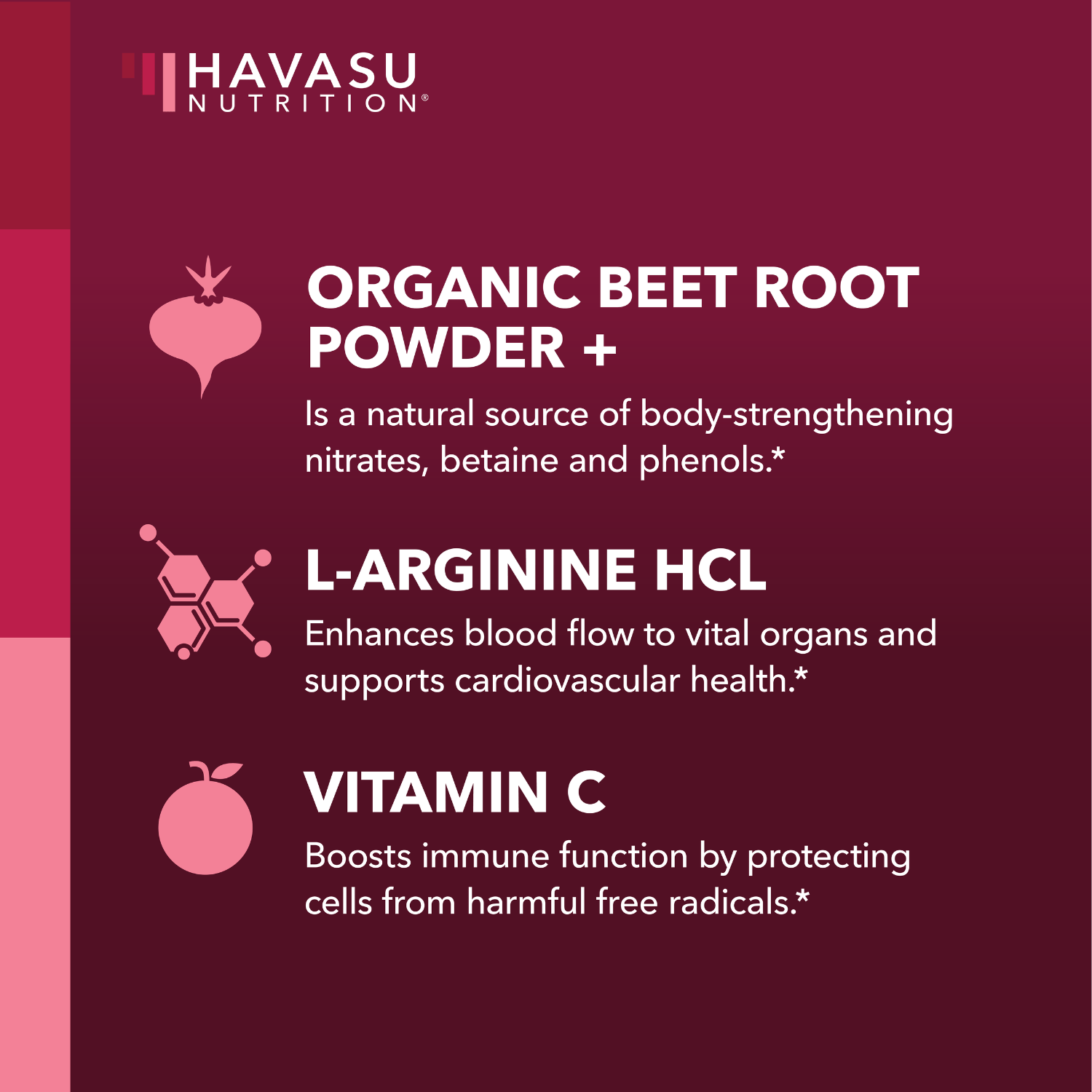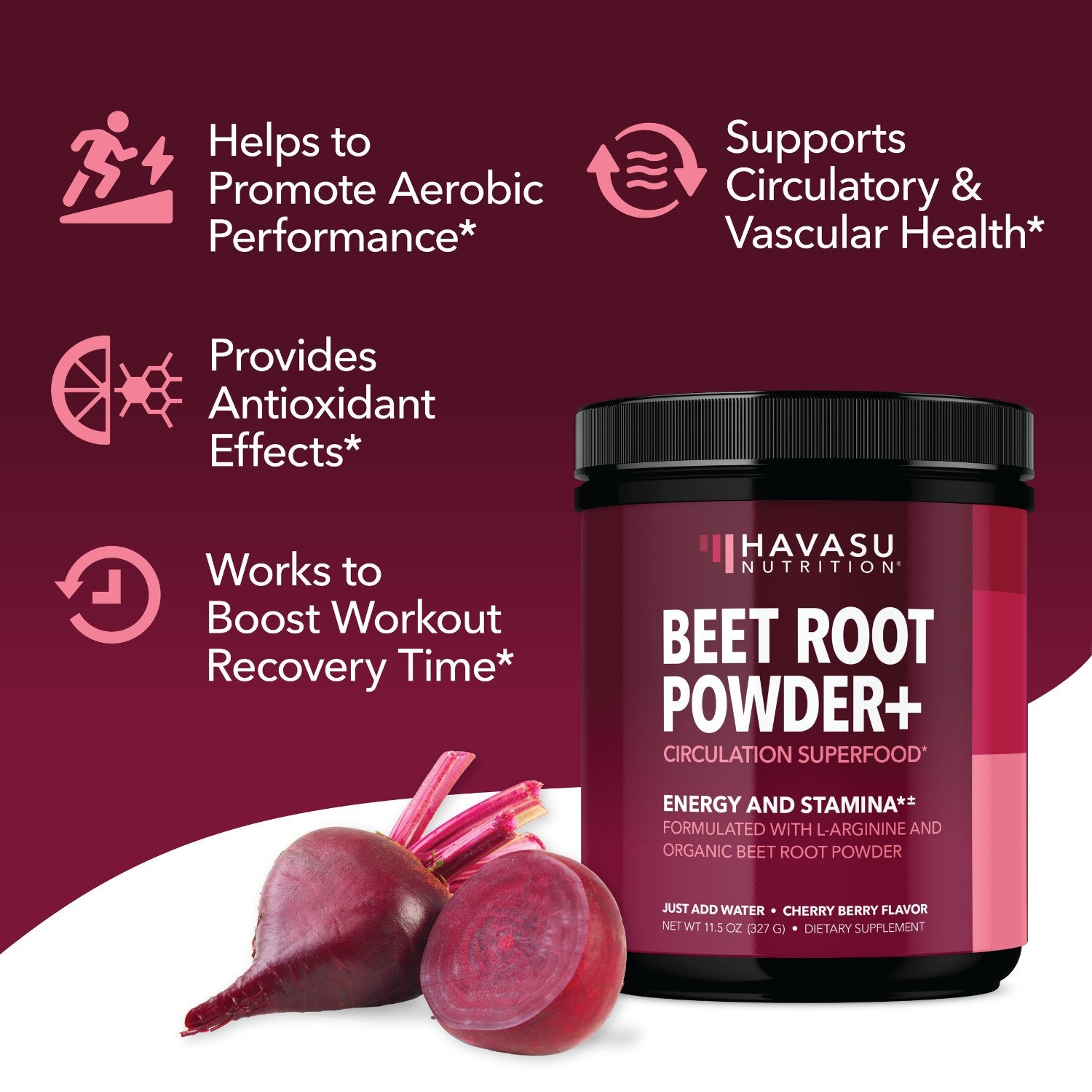 Beet Root Powder, Black Cherry, 327gm
Each serving is packed with essential vitamins, nutrients, and antioxidants to boost your overall health; from fighting inflammation to improving oxygen levels, these super beets do it all.
Our Beet Root Powder, Black Cherry flavor, is the perfect choice for anyone seeking natural, energizing benefits from an organic blend of beet root powder, L-arginine HCL, and Vitamin C.

Enjoy improved stamina, better blood flow, muscle recovery, and an enhanced cardiovascular health with our high-quality blend. Each jar contains 327gm of powder.
Ingredient Spotlight:
- Organic Beet Root Powder
- L-arginine HCL
- Vitamin C
Mix 1 scoop daily with water or your favorite sweet dish
Help improve circulation †
Reduce recovery time †
Boost stamina so you can workout harder and longer †
Free shipping in the US on orders over $35!
ENHANCED BEETROOT
L-Arginine, L-Citrulline and more in each serving can help you reach your fitness goals even faster
Help improve circulation †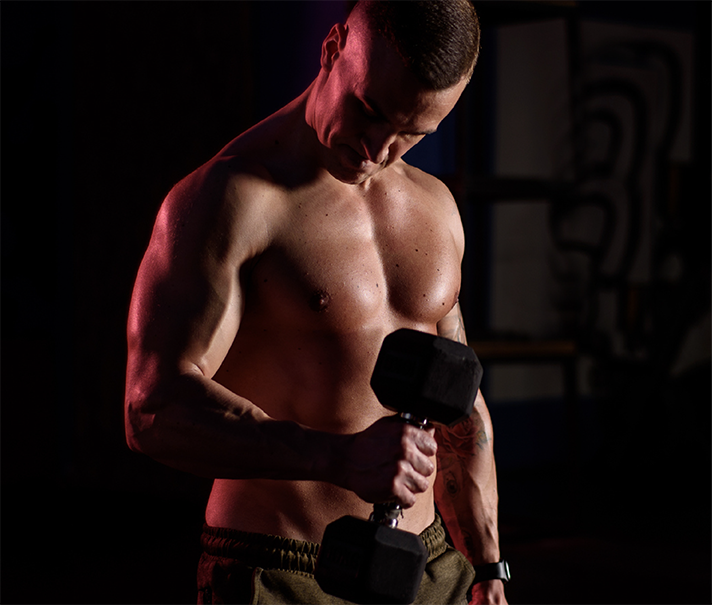 Price-match guarantee
Safe money when ordering with us
Hassle-free exchange
30-Day Money Back
4.58 Reviews
Customer satisfaction #1 priority
FREQUENTLY BOUGHT TOGETHER
Customer Reviews
Beet Root Powder !!!
By far the Best Beet Root Powder in the market. I tried a few. This is it for me.
Stamina on point and Pain on the long distances is now a distant memory.
I mix mine with Keto Charged. Endless Energy. Beyond placebo. Stuff just works.
Thus far, everything I received from Havasu is legit and solid.
Thanks.
Increased Blood Flow.
Must be honest, starting taking this to help with Triathlon training. I believe it has worked but I don't have hard data to back it up. What I can say is that I seem to have more energy and blood flow has increased tremendously. Thank you!
The pre workout quality and the immune enhancement of the mushrooms
Good flavor despite it also has the mushroom mix
HAVE A QUESTION? GREAT, ASK US!
Havasu Nutrition's Beet Root Powder is your ultimate stamina support! Beetroot naturally helps elevate healthy energy levels to keep you motivated to work out and pursue your fitness journey effortlessly!
Yes! You can drink Havasu Nutrition's black cherry-flavored powder drink every day. Mix 1 scoop with water or drink of choice daily and use this as your body-boosting drink! Beetroot benefits the body by helping improve circulation and reducing recovery time from the gym without the jitters from caffeine.
Just like any dietary supplement and drink mix powders, our Beet Root Powder may not be suitable for individuals contemplating pregnancy or those living with a certain health condition; Havasu Nutrition urges its customers to seek professional advice from a medical expert prior to taking any of our products.