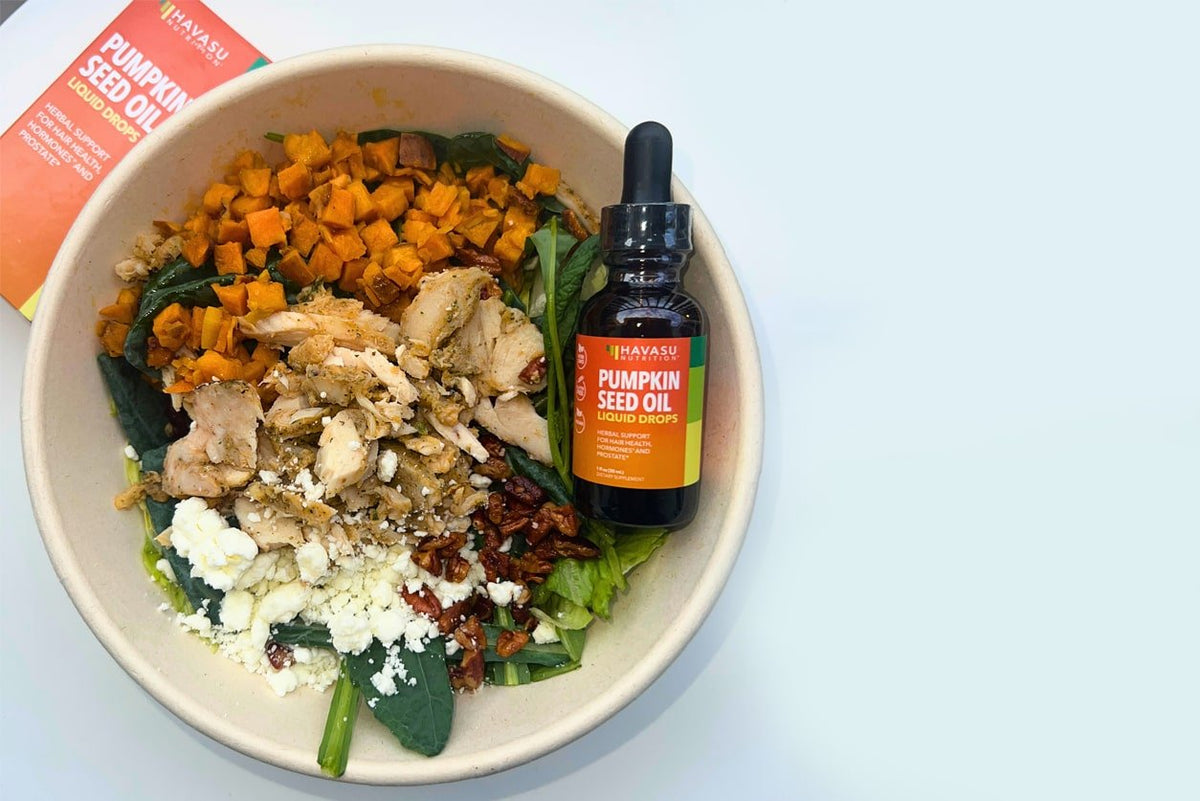 Harvest Kale & Romaine Lettuce Salad with Pumpkin Seed Oil
Not a fan of salads?
It is quite understandable that not a lot of people are enthusiastic about salads. There is a constant, nudging notion at the back of everyone's mind: SALADS ARE BORING—but we simply disagree!
Salads are meant to enhance your wellness journey and are literally colorful additions to your diet. The assorted blend of fruits, vegetables and protein offers a diverse set of health benefits that need little to no time to prepare!
But the question is, how do you make something dull interesting?
The answer is simple: JUST HAVE FUN WITH IT.
In this blog post, Havasu Nutrition presents a fascinating take on a traditionally known health supplement and how YOU can use it as a dressing to elevate your salad experience! 
DERIVED FROM COLD-PRESSED PUMPKIN SEEDS
Pepita Oil, better known as Pumpkin Seed Oil, is an unrefined plant oil that has been cold pressed to keep all the necessary nutrients it naturally has. It has been traditionally used as a health supplement mainly for prostate and hair support.
Unlike refined types of oil such as canola, regular olive oil, and vegetable oil, which all have been subjected to the typical processing methods that strip down their nutrients to help increase their shelf-life, cold-pressed pumpkin seed oil keeps its nutritional properties that would otherwise be damaged when exposed to heat.
The benefits of pumpkin seed oil are relatively broad, but we just can't get enough of its unique nutty flavor! This seasonal tinge of flavor introduces a fun and unique essence that harmonizes well with the already-present ingredients to your salad bowl! 
CONVENIENT HEALTH SUPPORT IN YOUR SALAD BOWL
Our organic pumpkin seed liquid oil drops are your easiest access to a nutrient-rich diet! Our Harvest Kale and Romaine Lettuce Salad with Pumpkin Seed Oil is altogether sweet, nutty, and flavorful—this would certainly change the salad game and disprove that salads are boring!   
Ingredients
½ cup choice of chicken or tofu, chopped

2 medium-sized roasted sweet potatoes, roughly diced

1 tablespoon of olive oil (or any neutral oil)

1/4 teaspoon salt

1/4 teaspoon ground black pepper

6 cups baby kale, stems removed and torn into bite-sized pieces

2 cups of romaine lettuce, chopped into bite-sized pieces  

1/4 cup dried cranberries

1/3 cup candied pecans

1/4 cup goat cheese crumbles

15 drops of Havasu Nutrition Pumpkin Seed Oil (one pipette) 
Directions
Step 1
Roast sweet potatoes: Preheat oven to 400°F. Toss potatoes in 1 tablespoon olive oil, and sprinkle with salt and pepper. Spread in a single layer on a sheet pan. Roast in oven for 40-45 minutes, until sweet potatoes are soft all the way through and crisp on the edges. Set aside to cool.
Step 2
Prep the baby kale: place the torn baby kale pieces in a salad bowl.
Step 3
Top kale with chopped romaine lettuce, roasted sweet potatoes, dried cranberries, candied pecans, and goat cheese crumbles.
Step 4
Drizzle with one pipette (15 drops) of Havasu Nutrition Pumpkin Seed Oil. Mix everything well to help each ingredient blend with each other perfectly.
Step 5
Note:
Since the featured product is derived from pressed seeds, it is essentially an oil. Oil does not mix well in water, so we recommend consuming the drops directly into the mouth or incorporating them in recipes like salads. 
It creates a beautiful nutty flavor that accentuates ordinary salads!
So, did you give it a go? Tell us all about your wellness journey this season! We'd love to hear more from you.  
RECOMMENDED PRODUCTS FOR YOU